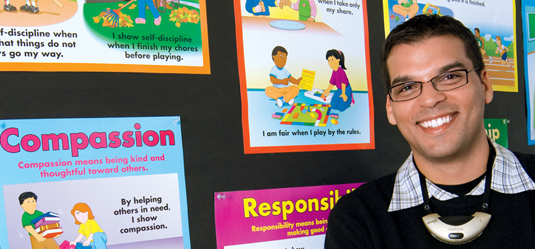 Andrew Schmitt
believes in the mess of learning
by Leanne Miller
The mess of learning is a concept Andrew Schmitt learned from assistant professor Patricia Palulis at University of Ottawa, where he earned his BEd.
"It's okay to let things get messy as you try new approaches and experiment with your students. As long as you keep your goals in mind, it doesn't matter how unstructured things become."
In fact, there's no mess at all in Schmitt's busy Grade 4/5 classroom at Joyce PS in the Toronto DSB. But there sure is a whole lot of experimenting and trying new things going on, for both teacher and students.
Last year Schmitt won a Premier's Award for Teaching Excellence in the New Teacher of the Year category. His citation talks about him inspiring students and teachers – in his own school and throughout his family of 14 elementary schools – to expand their knowledge and embrace technology to learn and teach mathematics.
As well as running a split class of 25 children, Schmitt lectures on mathematics and technology throughout his district and at conferences. He partners with researchers and businesses to win technology grants and awards. He's working with a team of researchers from York University studying multi-literacies and he's an associate teacher. He's his school's chair of ICT (information and communication technology), he plays piano for school choirs and concerts, and he organizes the after-school intramural sports program.
That's a lot for any teacher to handle, and it's especially impressive for someone so new to the profession. Schmitt started his teaching career at Joyce PS in January of 2005.
"He hit the road running and he hasn't looked back," says veteran principal Cheryl Paige. Her pride in and admiration for her colleague are evident. "For such a young professional, Andrew has a fantastic ability to see the bigger picture."
Paige has organized a great many nominations during her time at Joyce, and Schmitt's was the first one that every staff member signed.
"He is a dedicated and impressive teacher, both with his students and with his colleagues," Paige says.
"How can I help them now to prepare to be good citizens in the future?"
Classroom management is a big deal for all teachers, especially newer ones. So what's Schmitt's secret? "Being six foot five helps," he says with a smile.
But it's not just his physical presence, although that probably helps. It's more his manner with his students that enables him to manage his classroom and curriculum smoothly and effortlessly. And it's something he has worked on.
One day, towards the end of his first year teaching, Schmitt got a surprise while reading his students' journals. One student was apologizing for the class's misbehaviour.
"She wrote about how loudly I spoke," he recalls. "I was talking to a split class of 33 children, projecting for everyone to hear, and she misinterpreted that as me being upset with her."
The comment stuck with him. Today, he is measured, calm and quiet. In fact, his voice is quite soft, especially for one who towers over his students.
Another change from that first year is Schmitt's confidence in his curriculum and his teaching and learning activities. He knows how to develop and deliver engaging lessons because he now knows how to catch and hold his students' attention. There's no need to raise his voice and he rarely does.
Okay, but what about when he's provoked?
"Sometimes we've disappointed him, like when we have supply teachers," murmurs Valeriya. "We don't always remember our character traits. When that happens we deserve to be told," she sheepishly admits.
Those character traits are important to Schmitt. He takes time in September to build what he calls a solid foundation with character education. He integrates honesty, dependability, fairness, compassion, respect, self-discipline and trustworthiness directly into his lessons. At the same time, he is mindful that his own actions – both inside and outside the classroom – reflect those same traits.
The children talk about how to be a good audience as they excitedly prepare for class presentations. All eyes turn to the colourful character-education display as they decide which traits good audience members would demonstrate. Then they explain what these traits would look like.
"If you're respectful, you don't interrupt."
"Show compassion by giving positive feedback."
The kids get it.
"How can I help them now to prepare to be good citizens in the future?" Schmitt asks.
This is one of the main goals he keeps firmly in mind as he works through the glorious mess of learning in his classroom.
He is mindful that his students move to another school at the end of Grade 5.
"I want to equip them with the skills they need to establish healthy friendships. These are life skills we're talking about. They're important."
Of course the big mess – the one Schmitt and his students and colleagues love best – is technology.
As the school's ICT chair, Schmitt runs regular staff training through after-school and lunch-hour sessions in the use of computers, the board's Intranet system, ICT across the curriculum and related technology. He is also involved in the school's parent/child partnership programs for reading, research and music. These popular and well-attended sessions utilize the school's computer resources to help parents, staff and students learn together.
Collaboration is a big deal at Joyce, and it's something Schmitt values tremendously.
"Without it, I wouldn't be the teacher I am. I have a fantastic group of colleagues I can turn to at a moment's notice for advice, an ear or to bounce ideas off. They are all so creative and supportive of each other and our students."
Teachers at Joyce PS place a strong emphasis on oral language, as over 66 per cent of their students come from homes where English is not the first language. Technology is a good way to bring parents, children and teachers together.
Another way is mathematics. Regardless of the language spoken at home, all parents have math skills and all value their importance. And so Schmitt, like many of his colleagues, strives to be an excellent and engaging mathematics teacher. At Joyce, that means using technology, and we're talking about some pretty sophisticated technology.
Schmitt's classroom boasts a state-of-the-art SMART Board and projector, Apple notebooks, a document camera and – the kids all proudly point out – USB data bracelets that enable them to carry their school work at all times. They can plug into any computer in the school or anywhere else and download whatever they are working on.
"Kids love technology," Schmitt says. "Most are already experts, so why not let them shine. Besides, they hate chalk dust and getting their hands dirty. Me too!"
You may have seen newscasters using interactive whiteboards on television. Schmitt is just as savvy, and some of his kids aren't far behind. He rarely picks up a piece of chalk – in fact, there's hardly any chalkboard showing in his classroom.
A whiteboard uses a touch-sensitive display that connects to a computer and digital projector. With the touch of a fingertip, Schmitt and his students control computer applications, write notes, pull up charts and images, search the Internet, play videos, watch DVDs and use a document camera to share in each other's learning in a fun, hands-on, interactive and truly engaging manner.
There's also an audio amplification system that distributes sound evenly throughout the classroom, so students can hear clearly no matter where they're sitting. It includes speakers and a hand-held microphone for students. There's no yelling out answers in this classroom. Kids love the microphone and wait patiently to hold it before they speak. Here we have technology facilitating character education and classroom management.
Schmitt believes that technology like this makes him more effective with his curriculum. With the SMART Board comes online support, an endless bank of visuals and data and lesson materials designed to suit Ontario's curriculum, as well as unit- and lesson-planning tools. More importantly, he believes that technology enables his students to produce knowledge rather than simply consume it.
"They communicate better and they learn better. Plus they have fun ... It doesn't get any better than that."
"They interact with what they are learning. They communicate better and they learn better. Plus they have fun while they're learning. It doesn't get any better than that."
Last year Schmitt and colleague Wanda de Castro finished leading a two-year project to embed SMART Board interactive whiteboard technology into the Grades 3 and 6 mathematics curriculum. The goal was to raise mathematics achievement as measured by EQAO results, not just at their school, but in all 14 elementary schools in Joyce's family of schools.
They secured a grant through SMART Technologies, put whiteboards in 28 classrooms and trained the teachers to use them. They also trained 50 teachers and principals to strengthen their skills teaching mathematics after the educators themselves acknowledged gaps in their knowledge of math content and awareness of effective math strategies and resources.
In the end, many of the teachers, including most at Joyce PS, also took a mathematics AQ. Schmitt himself, with his Bachelor and Master of Music degrees, now has his mathematics, Primary and Junior specialist AQs.
And the outcomes? Nine schools showed increased EQAO math test scores, all schools reported increased student engagement, and teachers – many for the first time – were excited, confident and creative about teaching mathematics.
So what does a math lesson look like in Schmitt's class? Today, students sit at the whiteboard holding their Senteos – digital, wireless hand-held answering devices that allow them to answer Schmitt's questions without raising their hands or blurting out answers. They punch in their answers and their teacher monitors who responds correctly. Here's another piece of technology that contributes to good classroom management.
The interactive whiteboard shows a massive ruler with a line drawn on it.
"How long is this line?" Schmitt asks.
He patiently waits until everyone punches in an answer. With a flick of his finger, he can check to see who has answered correctly and make a note to work individually with anyone who is struggling.
Then he calls on Nahom to come up and explain how he got his answer. The kids are all eager to explain their logic. There are several different and correct explanations. Most get a chance to write on the whiteboard, move the line they're measuring and interact with the technology. They're pros by now and they love it.
Andrew Schmitt's Grade 4/5 students at Joyce PS are already experts at using technology in the classroom.
In fact, the lesson is a review – today is test day. After a 15-minute session, the children return to their seats. Kinesthetic, visual and auditory or verbal learners have all been engaged and the children confidently tackle the test.
So what do the kids think of Mr. Schmitt's teaching methods? Norman is in Grade 4. He gave a quick social studies presentation earlier today. The kids are working on a big project that integrates research on a province or territory with their novel study.
Norman wanted to share what he had done so far and Schmitt was keen to give all his students feedback. Standing at the whiteboard, the little boy confidently plugged his data bracelet into the laptop, controlled the whiteboard screen and shared facts, figures, and pictures of the foliage and animals of Nunavut.
"Mr. Schmitt has a good learning system that's practical and fun," Norman explains. "He's also teaching us how to be nice to each other. Character education is important to help us learn how to get along in life."
Victoria is in Grade 5. "He's creative. Instead of just using books, we use technology and it helps us remember better."
Winnie likes it that he blends subjects – social studies and novel study, for example – in projects. "That makes it more fun and interesting, when things we are learning link with other things."
Patricia, in Grade 4, explains that she and her classmates are smarter because Schmitt uses different ways of teaching. "It'll stay with us when we're adults because we learned it so well."
They're an articulate bunch of nine- and ten-year-olds. And they love the mess of learning – just like their teacher.
"I believe we learn through emotion, that emotions anchor things in our minds. I try to teach through positive emotion. Everything I do, the committee work, the technology training, collaborating with colleagues, it's all about finding ways to benefit our students – to help them learn better and have fun as they learn."