College member Lee-Ann McAllister, currently working at the College as a research analyst, and teacher-librarian David deBelle take a look at software that promises new web-user tools for teachers and students.
enLighter
Software review by David deBelle and Lee-Ann McAllister
Enlighter is a great little piece of software that allows you to retrieve, organize and collect web-based information – with many potential applications for teachers and students.
The electronic highlighter lets you select sections of a document and add virtual sticky notes, which show up when a cursor rolls over the highlighted area. The notes can also be posted at the bottom of the page and printed out. These simple tools allow you and your students to direct attention to the most relevant information. They encourage students to comment on information found and may help to reduce the tendency toward mindless cutting and pasting.
According to the enLighter brochure, the program can store "notes, highlights, images, web pages and reports in a single, searchable location." An easy-to-use document-management system allows you to place these in nested folders – or libraries. Thus, you can save information that may subsequently change online. And because both documents and your notes are saved off-line, you have access to them in class, even if the network is down. Because any HTML files can be shared using Internet Explorer, word documents and other files that are saved as HTML web pages can be posted and marked.
A search-history function tracks what, when and where you and your students have searched – allowing you to review and assess students' search strategies and provide practical and meaningful individual feedback.
EnLighter is easy to download and its intuitive design makes it simple to learn. There is depth to many of the tools and menu items and lots to explore and learn. I give this two thumbs up.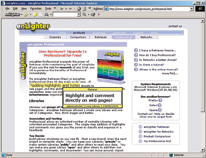 ---
Enlighter Professional, free 30-day trial, single-user licence US$34.95 less educational discount of US$10 (quote discount code OCTDISC10), www.enlighter.com.
For information on enLighter's network and multiple-user products contact sales@enlighter.com.