With the exception of some classroom sets, all books reviewed here are available on loan from the Margaret Wilson Library at the College. Contact Olivia Hamilton at library@oct.ca or call 416-961-8800, ext. 679, or toll-free in Ontario 1-888-534-2222, ext. 679.
About Teaching
By Bernice McCarthy
Reviewed by Gail Darling
Think of how important it is to give every child, every learner of any age, as many rich, cognitively rigorous and effectively powerful experiences as possible. This is the charge for all who aspire to teach. Bernice McCarthy, founder of About Learning, helps teachers meet this challenge in her newest book, About Teaching.
Bernice McCarthy changed my teaching practice significantly. In 1980, she published the 4MAT system and workshopped her research on learning styles and right/left brain modality throughout the U.S. and Canada. From 1983 to 1986, I participated in a 4MAT project that trained teachers in using McCarthy's model to develop exemplary curriculum.
I began to understand that people learn in different ways and that these differences must be honoured. I recognized that I taught some students more effectively than others. Students who learn through sensing and feeling are not as well served in most classrooms as those lucky ones who think abstractly and learn through reflection. I came to the important realization that for the sensors and feelers, if it doesn't get limbic, it doesn't get learned. McCarthy says that the stronger the degree of feeling, the more lasting the learning. Teachers need to engage their students emotionally.
Her research includes evidence that:
every brain is unique
learning is driven by emotions
learning thrives in nurturing relationships
the brain continually searches for meaning
people need to learn with others
the brain thrives on multi-sensory experiences.
McCarthy's recent work brings the original 4MAT system to a new level conceptually by shifting the emphasis from learning styles to the learning cycle. She describes multiple strategies to engage the whole brain and includes a detailed model to develop curriculum. Her chapter on assessment includes a template worthy of posting on every school bulletin board in the universe.
Before I used 4MAT, I had a repertoire of strategies that I knew worked but I didn't always know why. About Teaching not only describes why strategies work but also helps the practitioner to apply them in a consistent manner that follows a natural cycle of learning.
About Teaching may be ordered from www.aboutlearning.com or 800-822-4MAT; US$25.95. The web site contains additional information including model lesson plans and units.
Gail Darling is a former teacher, vice-principal and principal with the Scarborough board.
---
Canada and Its Trading Partners
By Harold Jarnicki
Reviewed by Majella Atkinson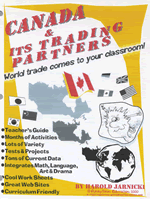 Canada and Its Trading Partners is a unit introducing world trade into the Grade 6 classroom. The unit is designed so that it can be used without any other reference material and is set up in three sections: Teacher Guide, The Lessons and Other Stuff.
The first section outlines the lessons and includes a time frame for each. The second contains all of the activities, data cards, maps, charts, graphs and tests for the lessons as outlined in the Teacher's Guide section of the book. All are reproducible and answer keys are provided.
The third section contains an evaluation tracker for the various lessons in the unit, a bibliography complete with web sites, books, materials and a glossary of terms that should be in each student's "traders' lexicon."
The unit covers most of the Ministry of Education's expectations in the Grade 6 Social Studies program in a challenging, interesting and fun manner. In addition, math strands in number sense and data management are incorporated into the unit, as well as expectations in the language, arts and drama areas of the curriculum. The unit is presented in a most appealing, challenging, yet fun manner. Something for everyone!
Canada and Its Trading Partners, Beeton, ON, 2000; cerlox bound, 100 pages, $29.95; FunkyApple Education; 905-729-4373; fax: 905-729-2714; e-mail: hjarnicki@funkyapple.com; www.funkyapple.com
Majella Atkinson is a Grade 6 teacher at St. Pius X School in Toronto.
---
Stop the Bullying: A Handbook for Teachers
By Ken Rigby
Reviewed by Lizann Kliewer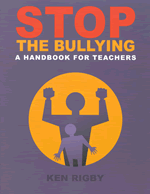 Stop the Bullying: A Handbook for Teachers is a concise and well-written resource book for schools. Divided into three main sections that cover understanding bullying, actions to take and resources, author Ken Rigby summarizes the main concepts behind this issue.
Most notably, he tackles relational bullying, which he states is "deliberately reducing the enjoyment a victim may have through satisfying personal relationships." As physical bullying is usually easier to spot, this type of insidious bullying is something that schools have a harder time coping with. This is a useful and useable resource for teachers who wish to explore this issue in depth.
Rigby offers schools a good selection of photocopiable masters that range from questionnaires for students, staff and parents to find out what is really going on – as opposed to the public relations gloss – to bystander exercises. He finishes off with a list of 20 detailed questions that would be useful for anyone who wishes to truly delve into this issue.
Stop the Bullying: A Handbook for Teachers, Markham, 2001; ISBN 1-55138-137-0; softcover, 64 pages, $18.95; Pembroke Publishers; 905-477-0650; fax: 905-477-3691
Lizann Kliewer is guidance counsellor and English teacher at The Linden School, an independent school for girls in Toronto.
---
Make Cool Gadgets for Your Room
By Amy Pinchuk
Reviewed by Margaret Buckworth
From building their own decoding machine, or an alarm to stop siblings from snooping, this book contains projects that will appeal to the nine to 14-year-old group that it targets. However, it should come with some cautions. A fair degree of supervision and guidance will be needed to complete some of the projects.
Although the colourful, multicultural illustrations are easily understood and the directions are in a clear and easy-to-follow format, I would recommend that teachers read and completely familiarize themselves with the material before undertaking any of these projects with their class. Some of the materials would also necessitate a trip to the local hardware store.
That said, it is a fun book that will excite students, and any of the projects would be a great hit in science or art class.
Make Cool Gadgets For Your Room, Toronto, 2001; ISBN 1-894379-12-8; softcover, 64 pages, $12.95; Owl Books; 416-304-0702, ext.309; fax 416-304-0525; cburns@owlbooks.on.ca Also in the Popular Mechanics for Kids series: Make Amazing Toys and Game Gadgets ISBN 1-894379-14-4; softcover, 64 pages, $12.95.
Margaret Buckworth teaches a Grade 2/3 split at Rivendall Hall International School and a Grade 1 Japanese class for the Toronto District School Board.
---
Junior Atlas of Canada and the World
Reviewed by Brenda Dillon
The Junior Atlas of Canada and the World (for Grades 2-4) introduces map skills and the political and physical geography with a focus on Canada.
The maps are large, clear and uncluttered. Each political map includes a Fast Facts box. The Canadian provincial maps include information about the province, symbols and photographs. A simple table of contents and index make this atlas easy to use.
Although designed for younger grades, this atlas is suitable for secondary students who are functioning significantly below grade level.
Junior Atlas of Canada and the World, Gabriola BC, 2001; ISBN 1-895110-82-3; softcover, 58 pages, $16.95 each, class set (25) $375.00; Pacific Edge Publishing, 800-668-8806; fax: 800-956-8299; chriss@classroomresources.com
Brenda Dillon is the teacher-librarian at Philip Pocock Catholic Secondary School in Mississauga.
---
The Print Club
By Kathleen Woodington and Laurie Fowles
Reviewed by Maria E. Nebesny Kollias
The Print Club is a comprehensive printing program written by two occupational therapists and designed for Junior and Senior Kindergarten students experiencing difficulties with fine motor activities. User-friendly, it could easily be implemented by homeroom teachers, Special Education teachers, parents, educational assistants or volunteers.
The guidebook would also appeal to new teachers as it covers factors affecting handwriting, how to check for proper grasp and posture as well as materials required to build fine motor strength.
The alphabet cards that are included for photocopying, along with an abundance of activity sheets, make this a useful resource for the Kindergarten teacher.
The Print Club, London, 2001; ISBN 0-9680415-2-3; softcover, 51 pages plus 136 activity sheets; $75.00; Thames Valley Children's Centre; 519-685-8703; fax: 519-685-8699; tvcc@sympatico.ca.
Maria E. Nebesny Kollias teaches at Unionville Public School.
---
A Canadian Heraldic Primer
By Kevin Greaves
Reviewed by Marjan Glavac
Through the abundant use of humour and wit, author Kevin Greaves has written a book that will appeal to any motivated Grade 6 student studying a medieval unit and to any teacher teaching it. The humorous writing style is complemented with funny cartoons and illustrations throughout.
The book begins by explaining, in simple language, how the popularity of the tournament in the late Middle Ages led to the birth of heraldry. It continues with details of the shield and what goes on it, as well as highlighting Canada's unique history, culture and symbols as they relate to heraldry.
History really comes alive in chapter 12 when Greaves gives the steps needed to come up with your own design for your own arms. From first to last this is a book that is engaging, informative and fun.
A Canadian Heraldic Primer, Ottawa, 2000; ISBN 0-9693063-4-2; softcover, 56 pages; $9.50; The Heraldry Society of Canada; 416-447-0705; fax: 416-447-2466; www.hsc.ca
Marjan Glavac is an elementary teacher in London and author of The Busy Educator's Guide to the World Wide Web.<!End Text Edit Here>