<!Edit the Small Content Graphic>
<!End the Small Content Graphic> <!Begin Text Edit Here>


Louise Pitre, who now belts out ABBA songs to rave reviews from New York theatre-goers and critics, was once headed for a career as a high school music teacher in small-town Ontario.

It was just such a teacher – Cheryl David – who set her on a different and more spectacular path.

"It was incredible, unselfish giving on her part," says Louise Pitre today. What David gave was time and encouragement, helping Pitre to pack years of music theory and practice into just two years, so that she could qualify for the University of Western Ontario's music program.

Until Grade 11, Pitre had played piano just for fun, starting as a child of seven at her mother's suggestion.

"I think she asked me because it was something she would have liked to have done. But she was from a very poor family in northern Quebec and they never could afford a piano."

"I just went crazy," she says, relishing the memory. "I would be at the piano downstairs and my mother would have to say 'Louise, come for dinner. Come o-o-on,'" she mimics, laughing.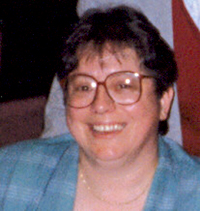 Cheryl David
Piano lessons with a neighbourhood music teacher were not sophisticated. "She taught strictly from lead sheets," says Pitre. "All you have is the melody line for the right hand and chord symbols above those notes. So, with the left hand, I was just going 'oom chunk, oom chunk'."
It was, though, a great way to learn because "right away I was playing songs I knew and that was exciting for me."
All this had happened in Montreal, where the family had moved from her birthplace in Smooth Rock, Ontario. In 1970, the Pitres returned to Ontario, this time to Welland. Thirteen-year-old Louise entered the bilingual École secondaire Confederation in Grade 9, where she learned English. She performed at school assemblies and occassionally on "an old clunker" in a room off the gym.
"The room was full of equipment and this piano was stuck in there. I would stand against the wall (there was almost no room for me) and play Elton John and Carole King – my heroes."
Two years later, a new music program and teacher at the school made a profound difference on her life's direction.
"There was a brand new music room in a new wing of the school. They were actually in there playing trumpets and clarinets and stuff."
But Pitre's instrument was not the piano. "It was the first time I ever played the trumpet. But it went well so, in Grade 12, my parents bought me my own instrument for my birthday and I got to be first trumpet in the band. It was great."
The teacher was Cheryl David who played clarinet (and just about every other instrument). She was "incredibly accessible and amazingly excited about what she was doing," says Pitre. "The fact that she could pick up anybody's instrument and play it was so impressive to me."
Pitre remembers telling David that she wanted to study music at university. When she made inquiries, the information she got back was a shock. "I had to have Grade 9 Conservatory and Harmony," subjects she had barely heard of.
But David was undaunted. "She said, 'If you want to do this seriously, we've got to get you organized.' She gave me her old music books." She also helped find a new piano teacher who could bring Pitre up to Grade 9 level in piano, for her university audition.
"Basically I had two years to do all this," recalls Pitre. "After school, Cheryl David taught me the harmony and theory I needed to pass the exams and saw me through the entire thing. I passed!"
During her four years at the University of Western Ontario, Pitre auditioned for a musical and got the part. It was then that Pitre decided "This is what I want to do," and a career was launched!
Recently, after 33 years, Cheryl David retired. She remembers Pitre as "an exceptional, exceptional student. There was no one else like her." She is thrilled at Pitre's success and modest about the part she played in it. "She has God-given talent, I just helped to guide her on the right path."
Pitre is adamant that Cheryl David made a significant difference to her career. "Cheryl David was huge in my formation as a singer. She was absolutely the first one to give me what I needed to get where I am."
A few years ago when asked to do a concert at the church Église Sacré Coeur in Welland, Pitre asked Cheryl David to play clarinet. She also took that opportunity to thank her former teacher in public. "I just talked about her first and then invited her up. She was so nervous, she was shaking." Pitre recalls. We performed Someone to Watch Over Me together – I sang and she played this nice solo, then we finished together. It was great."
Pitre expects to continue in Mamma Mia! in New York for a few more years and will soon start rehearsing for another project – a remake of Sweeney Todd with the Calgary Opera Company scheduled for 2004.