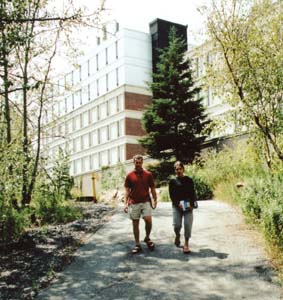 There was a palpable buzz on campus and around town in Sudbury all spring, as Laurentian University awaited confirmation of accreditation for concurrent four- or five-year Bachelor of Education program in English.
"I haven't seen this kind of excitement, since the new medical school was announced," said Anne-Marie Mawhiney, Laurentian's Dean of Professional Schools.
"Students are calling from all over the province to ask how to get into the teacher education program and first- year students already on campus are asking how to transfer in." Inquiries regarding faculty positions came from across North America.
Accreditation of the program is historic for both the College and the university. Laurentian was one of three new
pre-service teacher-education programs to undergo accreditation review by the College since its accreditation powers were formally conferred last December. Trent University in Peterborough and the University of Ontario Institute of Technology in Oshawa were reviewed along with Laurentian this year. All three were accredited in April 2003.
Laurentian's program will complement the university's existing consecutive teacher-education program in French. Permission to offer education was part of the university's original mandate, but 10 years ago, when its affiliation with Nipissing University ended, it had not been feasible to move into English-language teacher education despite demand in Ontario's northeastern region.
Two years ago, however, pressures to offer an English-language pre-service program resurfaced. Baby boomers in the teaching profession were hitting retirement age. Fifty-six thousand will retire in the next five years. Faculty and community members agreed the time was right.
"In the last couple of years, Laurentian has looked to expand the programming we offer with the goal of continuing to attract students from northeastern Ontario, other parts of the province and beyond," Mawhiney says. "Education is a program that has heavy demand right now."
It is also within Laurentian's mandate to offer programming that is sensitive to the needs of northeastern Ontario and native communities. The proposed program reflects the northern Ontario context by enabling students to learn cross-cultural and culture-specific pedagogical approaches related to the large First Nation population in Sudbury. Courses in aborginal studies will be available to BEd students.
The four-year program will allow students to earn a general BA, BSc or BPHE or BEd, while the five-year program will allow students to earn an Honours BA, BSc or BPHE or BEd. High school students applying to Laurentian will need a 75 per cent average to be considered for entrance to the concurrent program.
| | |
| --- | --- |
| Janice Thomson | Curriculum Services Canada Announces the 2003 Janice Thomson Memorial Grant |
Awarded to Moira Skikavich of the Ottawa-Carlton DSB for her interactive learning game "Baking Tools"
The grant is named for the late Janice Thomson: teacher, author and advocate. Janice taught history, was devoted to the arts in school and well known for her pioneering work in identifying and teaching at-risk students.
Like all CSC grants, the grant funds the development of new materials for secondary school students, provides mentoring and a cash award.
Award-winning resources are available free on the CSC web site.
To learn more about CSC grants and free materials., visit www.curriculum.org.
While Laurentian was still in the accreditation process, it could not accept high school students directly into the program. Instead, it directed those with interest to apply to get into a BA, BSc or Bachelor of Human Kinetics program and that they could apply for a transfer to the teacher education program once it becomes available.
Support for the proposed program has been significant – as phone calls and weekly press coverage indicate.
Laurentian submitted application documents for accreditation to the College at the end of February. College accreditation panel members reviewed the materials – five volumes worth – by mid-March and conducted a teleconference with Mawhiney and others in lieu of a site visit. Site visits aren't required for new pre-service programs.
College Council members Jerry De Quetteville, Larry Mongeon and Elayne McDermid were joined on the accreditation panel review of Laurentian by member-at-large Erik Khilji, a vice- principal with the TDSB, roster member Victoria Northcott, a PhD candidate at OISE/UT who also works in the pre-service program at York University, and Laurentian's nominee Sylvia Barnard, President of Cambrian College in Sudbury. De Quetteville chaired the review panel.
The panel prepared a draft report, forwarded a copy to Laurentian to ensure accuracy of information and submitted a final report to the College's accreditation committee for decision.
Because it is a concurrent program, Laurentian submitted information on integration courses, the other non-education courses that the students will take in their BA, Bsc or physical education degrees. Although a review of the integration courses is not part of the College's mandate, it looks for links to the teacher education program.
Laurentian intends to accept 200 students into the program this September. In their first year, students will focus on their first undergraduate degree. Except for presentations from the College and the Ministry of Education, which begin in the first year, most teacher education courses begin in the second year. Volunteer work in schools is integrated throughout, with four weeks of practicum in the second last year of the program and 13 weeks in the final year.
Mawhiney says the accreditation process has been "very organized, very clear. The College was appropriately helpful, given that this is a new program. We felt we could ask questions and we received answers in a timely fashion."

<!Start Blue Page Choice Header> next