<!Start of Contents>

New Council Member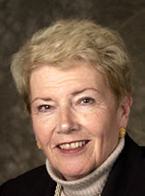 The newest public member of the College Council is Lila Mae (Lou) Watson, who retired in 1997 after a 35-year career in public education, the last 10 as a supervisory officer with the Scarborough Board of Education. She replaces Solette Gelberg, who resigned in September, and will serve as a public appointee until 2005.
Watson began her career in 1959 after completing her teacher education at the Toronto Teachers' College. She earned a BA in political science from York University in 1976 and a MEd in educational administration from the Ontario Institute for Studies in Education/University of Toronto in 1981. She was certified as a supervisory officer in 1983.
Watson spent her entire career in Scarborough, teaching at Inglewood Heights, North Agincourt, Willowfield Gardens and Galloway Road public schools before moving to Joseph Brant Senior Public School first as vice-principal and later as principal. After serving as a principal for special education programs, she moved into the role of supervisory officer.
A self-described educational "jack of all trades" due to her interest in all aspects of education, Watson took special interest in the relationship between schools and parents and was instrumental in building and strengthening school liaisons with parents prior to the development of school councils.
Since retiring, Watson has served on a number of committees and boards. She was chair of the Toronto Strategic Business Alliance's Youth Sub-Committee on School to Work Transition. She also served as Chair of the Board for the Scarborough Progress Career Planning Centre between 1996 and 1999 and as Chair of the Sub-Committee to Develop Policy for School Councils under the Ministry of Education and Training's Education Policy Advisory Council.
"I'm interested in the perpetuation and progress of the best education possible for the children in Ontario," Watson says, adding that every adult is obligated to do "whatever it takes" to ensure that.