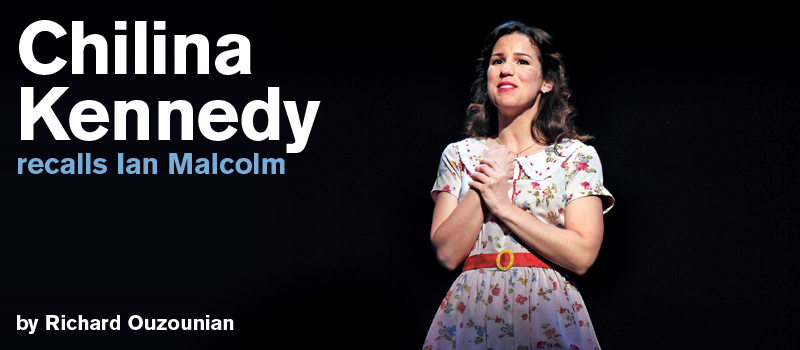 Chilina Kennedy's
Remarkable Teacher
Ian Malcolm, OCT
by Richard Ouzounian
"Make it real, get ready, and go!"
That's what Chilina Kennedy said to herself before every one of her performances this season at the Stratford Shakespeare Festival, where she starred in the title role in Evita and as Lois Lane in Kiss Me, Kate.
It's a mantra she's been using for 16 years, ever since her drama teacher, Ian Malcolm taught it to her at Kingston Collegiate and Vocational Institute.
"I can still hear Ian saying it," says Kennedy from her home in Stratford. "He would say it before we'd start a scene, and then he'd clap his hands, and away we'd go. I still do it to this day. It's really the best advice you can offer a young actor: Be prepared, be in the moment, and then just do it."
Kennedy is 32 now and generally regarded as one of the major talents on the Canadian musical theatre scene. Her professional work includes a stint as Sophie in the American touring company of Mamma Mia! and several years at the Charlottetown Festival, where author Don Harron called her performance in the title role of his Anne of Green Gables, "absolutely the best I've ever seen."
It was 2009, however, when Kennedy really shot to stardom as Maria in Stratford's production of West Side Story, directed by Broadway veteran Gary Griffin. It was only natural that Canadian critics should rave about her, but Americans chimed in as well. The New York Times and the Chicago Tribune pronounced her and the production far superior to the revival running in Manhattan at the time.
"Chilina's got everything," enthuses her director, Griffin. "She can be funny, heartbreaking, violent and romantic all in one scene. She can do all that because she's not afraid to take chances and always insists on being honest."
Kennedy attributes that to Ian Malcolm.
"He was so encouraging about everything I was trying to do that I felt safe around him," she recalls. "And that has stuck with me throughout my career. He himself was very open and passionate and serious about theatre, and he insisted that we be the same in return."
Malcolm is retired now, but he clearly remembers the whirlwind who came into his Grade 10 class in 1994.
"She was a very effervescent person," he says, "and my first impression of her was the enormous pleasure – the delight – she took in being in drama class. And then you became aware of her enormous talent."
I only realize now what an impact he had on my life and career.  
One of the secrets to Malcolm's success as a drama teacher was his understanding that interpersonal dynamics can make or break a performer even more profoundly than technical skill.
"I think it's very important for young actors to develop group trust and group responsibility," says Malcolm. "So when new students came into my class, I was looking at how they measured up in that area. From the very beginning, her compassion and generosity were clear, which is one reason I had such faith in her."
Kennedy is shyly embarrassed by Malcolm's memories of her. "I never thought I was really getting what Ian said back then. I had such a warm feeling because of his encouraging nature, but I wasn't sure if I was doing everything he wanted us to."
The only child of a brigadier general in the Canadian Armed Forces, Kennedy spent her youth moving from Canada to England to Australia and then back home again.
"I learned early on that you could either hold out your hand for people to shake or wait for them to hold out their hand, and it made things a lot simpler if you started it off. Maybe that's why Ian felt I was so enthusiastic from the start," says Kennedy.
Malcolm felt that, in addition to Kennedy's positive attitude and natural gifts for singing, dancing and acting, her secret weapon was her brain.
"Her intelligence was so strong. She could read a script and instantly understand how a character could change and what the character really meant."
That would become clear in the kind of works Malcolm gave his students, which included Greek tragedy and Arthur Miller – not the kind of plays some teachers rely on.
"Every script is a time capsule," explains Malcolm. "When students play people who are more adult than themselves – from other times and places, speaking in language that is challenging – they are being incredibly stretched. But with the really talented people like Chilina, you get a glimpse of the theatrical complexity they're capable of, and that's how it all begins."
Ian Malcolm with Chilina Kennedy and his wife, Rosalind Malcolm, after the opening night of Kiss Me Kate, Stratford, June 2010
To explain what he means, Malcolm points to Kennedy's work in the final scene of West Side Story. Having just watched her lover get shot and die in her arms, Kennedy picks up the gun and stuns the entire onstage crowd with a speech filled with deep grief and searing anger. It drove every audience last season to tears.
"That final scene was Chilina exactly, and it didn't surprise me," says Malcolm. "In a class exercise we did back when she was only 17, she played the doomed Queen Jocasta who had unknowingly married her son, Oedipus. She had all the power the role needed back then and a very adult sense of what pain could be."
After Kennedy graduated in 1997, she went on to Sheridan College in Oakville. "I lost touch with Ian then," she admits. "But once I started performing professionally, he would come to see me and we renewed our friendship.
"I don't think I appreciated the kind of things he did for me until I got older," she says a bit wistfully. "I only realize now what an impact he had on my life and career."
Now it's Malcolm's turn to be embarrassed. "Once I saw how great her abilities were, all I could do was figure out the next best challenge to offer her and then get out of her way."
When asked if he knew all along that Kennedy would become the star she is today, Malcolm makes himself clear. "You hope for it, but you can't want it, you can't impose it," he says, sighing. "There's so much time between a Grade 12 classroom and later accomplishment."
But in the case of Chilina Kennedy, the lessons of one have illuminated the life of the other.