PS News presents reports on recent College activities and a selection of announcements, events and initiatives in the wider education community that may be of interest to our members.
Legislation
Labour mobility arrives for teachers
Any teacher certified to teach in another Canadian province or territory will now be recognized as qualified to teach in Ontario.
The Ontario Labour Mobility Act, 2009 became law in mid-December. Under the terms of labour mobility, professionals and tradespeople certified in one Canadian jurisdiction will be considered to have met the requirements for certification in other Canadian jurisdictions without having to undergo material additional training or assessment or meet additional experience requirements.
Labour mobility refers to the revised Agreement on Internal Trade approved by the federal, provincial and territorial governments in January 2009 to make it easier for professionals and tradespeople, investments and goods to move across the country.
"We support labour mobility as a positive step for the teaching profession," says College Registrar Michael Salvatori, OCT. "This legislation will make it easier for teachers and many other professionals to move between provinces and territories."
The College usually certifies between 400 and 500 teachers each year from other parts of Canada.
Labour mobility questions and answers that you may find helpful are posted on our web site. You can learn more about applying to the College at Become a Teacher.
---
BC College of Teachers discusses independence
In December the council of the British Columbia College of Teachers (BCCT) directed to its Registrar to develop policy, bylaw or potential legislative changes intended to increase independence from the BC Teachers Federation and other education partners. The push for a new direction comes from the current council Chair and a former president of the Comox District Teachers Association, Richard Walker, and the college's new Registrar Kit Krieger, who previously served as president of the BC Teachers Federation.
The resolutions include:
a prohibition against any unauthorized meeting between council members and other education groups to discuss college business
the examination and recommendation of other measures to strengthen college independence in its relationship with education groups
a review of policy in relation to diminishing apparent conflict-of-interest concerns.
Formal decisions were deferred at the college's  January 27 meeting and will be discussed at a public meeting April 1, 2010.
In 2003 provincial legislation in British Columbia changed the structure of BCCT's 20-member governing council. It was previously 15 elected and five publicly appointed members and is now composed of 12 elected members and eight appointed from the public and the education community, including seats that are legislatively specified for a principal, supervisory officer and other members of the profession.
IETs
In November and December newly licensed internationally educated teachers (IETs) attended College presentations to learn about Ontario's education system and IET-specific resources.
| | |
| --- | --- |
| | |
| Toronto | Brampton |
2009 Atkinson winner
William Snodgrass awarded scholarship
The 2009 Atkinson Scholarship winner William Snodgrass (centre) credits mentor teachers, including his mother, for inspiring his career. Here, he receives his $2,000 award from former College registrar Joseph Atkinson, OCT – with Deputy Registrar Joe Jamieson, OCT (far left), Council Chair Liz Papadopoulos, OCT, and College Registrar Michael Salvatori, OCT (far right), on hand to offer congratulations.
William Snodgrass, the winner of the seventh Joseph W. Atkinson Scholarship for Excellence in Teacher Education, draws inspiration from many mentor teachers, not least his mother, a high school drama and English teacher in the Peel DSB.
The award – in honour of the College's second registrar – is given annually by the Ontario College of Teachers Foundation to a teacher candidate studying at a faculty of education in Ontario who has achieved outstanding academic success in undergraduate studies and demonstrates a high level of preparedness for teacher education.
Snodgrass is completing OISE's pre-service program after majoring in percussion and music education at the University of Toronto. He was both thrilled and honoured. "I am humbled to have received this award," he says, "and hope I can live up to the standards of excellence and passion for teaching that it recognizes."
Although just beginning his professional career, the young music grad has an impressive resumé of teaching and volunteering experience. Throughout his high school and undergraduate studies, he won several awards and scholarships for outstanding musical and academic achievements.
Growing up in Mississauga, Snodgrass ran volunteer music and drama programs for children and young adults with disabilities. For several years he taught drums and piano to children at a private music school in Mississauga, and he has taught the fundamentals of technology-based home music recording at a west-end music store that sells recording equipment.
Like many aspiring teachers, Snodgrass has worked with children in summer camps. In the summer of 2008 he won a gold medal for his work designing and implementing a music program for young day campers. Teaching six classes a day with 25 children per class, he incorporated percussion instruments, music appreciation, movement, song, world music, imaginative play and dramatic arts into what he calls a holistic and fun learning experience.
When he teaches, he keeps in mind teachers who have excelled in various areas of the curriculum.
"When I teach my favourite African songs and drumming patterns," he explains, "I imagine the charisma of the teacher I first learned them from. When I teach about world music, I remember the reverence and deep appreciation of music that my teacher had. When I talk about theory, I think of my quirky professor who knew more about theory than I could ever know and had 10 different ways of explaining every concept to anyone who was willing to listen."
Snodgrass described the experience of his first practicum last fall as engaging and thought-provoking. "I came to realize we're teaching far beyond the musical instrument," he says. "It's not just about the clarinet. It's about connecting with kids to teach them communications, problem solving and creative thinking skills."
While he has a vision of what makes a good teacher, the more Snodgrass tries to reach the vision, the more he realizes that it's unattainable.
"We come up with lofty ideas of what perfection looks like," he says. "We scoff at ourselves when we're not there yet without recognizing that perfection is unattainable and that striving to reach our goals is a constant journey."
Snodgrass is having a fantastic time this year at OISE, both in the classroom and out practice teaching, but he is really looking forward to next year when he hopes to be teaching music in his own high school classroom somewhere in the province.
"I'm excited by the challenge of teaching and hope I can have enough faith in my abilities to know that I can run my own classroom," he says.
He realizes that he still has a lot to learn, and he thinks it's important to keep things in perspective.
"To think that I should know everything and then be hard on myself when I realize I don't is not a healthy way to live," he comments. "But the acknowledgment that there is a lot to learn is the first step to actually learning.
"I was told once that teaching is a lot like diving into a pool. It doesn't entirely matter whether you sink or swim, but it does matter that you dive in."
Child sexual abuse
Teachers have a critical role
Teachers have a "huge responsibility" in preventing child sexual abuse, according to a recent report by the Canadian Centre for Child Protection.
"We're not talking about Internet safety but helping children, especially under the age of 12, thwart actual abuse," says Noni Classen, the centre's Director of Education. "Most sexual abuse starts offline." She adds that teaching children to be wary of strangers is outmoded since almost all abuse comes from adults known to the child. "We need to focus on strange behaviour, not strangers."
Last November the Winnipeg centre released a study based on an analysis of more than 4,000 images of child sexual abuse found on Internet sites.
Classen says that some of the children appeared to be eight years old and under. Titled Child Sexual Abuse Images, the study recommends that children be taught the skills and confidence to disclose and possibly ward off abuse. Says Classen: "We need to empower children, not scare them. We need to teach them about body parts, privacy, touch and what constitutes a healthy relationship. And if they have a concern, how to approach a trusted adult – unless the trusted adult is the concern. In that case the child needs to go to another trusted adult."
The centre has worked with teachers to develop a broadly based education program, Kids in the Know, which integrates the difficult subject with the existing curriculum. The program, also available in French, can be used to help children from nursery-school age through Grade 12. Kids in the Know is approved for use in Ontario, where it underwent successful pilot testing in 10 English school districts during 2007.
"This is an amazing program," says Wanda Hill, OCT, principal of Sundridge Centennial PS, about 75 kilometres south of North Bay in the Near North DSB. "It's easy to use and works well with other units such as language or computer studies."
Hill's school was involved in the pilot. "Kids in the Know is a must for kids of all ages," she says. "If children experience something inappropriate, they learn it is not their fault and that there is another adult who can be trusted. It gives them the confidence to speak out if something happens."
Following last year's sexual abuse images report, the centre is distributing 300,000 free booklets to Grade 6 classes across the country. Titled Be Smart, Strong and Safe, the activity booklet helps children learn how to identify inappropriate behaviour and what to do when something makes them feel uncomfortable.
Be happy, be a teacher
Profession tops US well-being index
Teachers are more optimistic, lead healthier lives and have more positive daily experiences than people in 11 other job categories, according to a US Gallup survey of some 180,000 people.
Teachers rank first overall, followed closely by business owners, executives and other professionals when all six sub-indices of Gallup's Healthways Well-Being Index are considered. Manufacturing workers finished last.
Teachers ranked first in four of the sub-indices: life evaluation, in which respondents assess their present and future lives on a zero-to-10 scale; access to resources and services needed to lead a healthy life; emotional health; and healthy behaviour. They ranked near the middle on the other two sub-indices: job satisfaction and physical health.
"It is unclear whether the relatively higher scores of teachers on several measures of well-being are because working in that profession enhances one's well-being, or if people who have higher well-being in general seek out teaching professions," said the survey's authors.
The Healthways Well-Being findings are in contrast to an earlier US survey by Public Agenda and Learning Point Associates, which showed that two out of five teachers appear "disheartened" about their jobs and "disappointed" in them.
International credentials
Timely assessment of newcomers' qualifications a priority
Internationally educated teachers who apply for a licence to teach in Canada are to be advised within one year whether their qualifications will be recognized.
This guideline is part of the new pan-Canadian framework for the Assessment and Recognition of Foreign Qualifications announced by the federal government in late 2009. The framework is intended to ensure that newcomers' credentials and qualifications are assessed in a timely manner.
In Ontario, internationally trained teachers are usually notified in substantially less time. Once all required documents are received from an applicant, the Registrar uses his best efforts to make a decision within 120 days about whether the Ontario College of Teachers can issue a certificate.
"We take pride in our fair registration practices," says College Registrar Michael Salvatori, OCT. "So much so that we put it into law."
The College is the only self-regulating body in Ontario to have its own regulation affecting fairness in registration practices. The provincial government passed the Fair Registration Practices Regulation under the Ontario College of Teachers Act last summer. The regulation ensures that applicants receive clear information about how to apply, what the fees are, what documents are required and how long the process usually takes. 
It also addresses how to appeal decisions. Many of these practices were already in place or underway at the College when the regulation went into effect.
Under the pan-Canadian framework, foreign-trained workers who apply to be licensed or registered to work in specified occupations are to be advised within one year whether their qualifications will be recognized.
Federal, provincial and territorial governments support this new framework and co-operated in its development. The framework will improve qualification recognition for internationally trained workers and is part of the federal government's strategy to have the best educated, most skilled and most flexible workforce in the world.
Governments will work with regulatory bodies, postsecondary institutions and other key partners to implement the framework in phases. The one-year timeline for the assessment for internationally educated teachers' credentials should be in place across the country by the end of December 2012. Eight other occupations, including architects, engineers and registered nurses, are expected to comply by December 31, 2010.
The framework is available on the Human Resources and Skills Development Canada web site. The Fair Registration Practices Regulation is available on the provincial e-laws web site.
resources and competitions
Magazine gains national attention
The Canadian Young Scientist Journal is the little magazine that could. Driven by the same tenacity that propelled the storybook little engine, the publication that began as a school project (see Publishing Science, Professionally Speaking, June 2008) has now achieved national prominence. The semi-annual magazine of scientific papers written by high school students, with the occasional undergraduate in the mix, is now distributed to every high school in the country.
The brainchild of Sacha Noukhovitch, OCT, a Northview Heights SS Computer Sciences teacher, the journal will publish its sixth issue in September. A 1997 refugee from Russia, where he worked in the nuclear power industry, Noukhovitch is passionate about the magazine because he believes that Canada's future depends on fostering scientific and technological inquiry at an early age.
"Canada can't survive on natural resources forever," he says. "Before we started the journal, high school students had no outlet for their scientific work. We need to bring new generations to the highest possible intellectual level as we compete globally."
Noukhovitch relies on personal connections to ensure that all articles are peer reviewed by experts in the field. He gets some 100 submissions for each issue but can only publish five or six because of the costs of printing and distribution.
One of the first articles, on the effect of small holes on aircraft wing design, won first prize at the 2008 World Virtual Science and Engineering Fair. The author, Vladislav Ternovsky, now a mechanical engineering student at the University of Toronto, was a Northview Heights student when he wrote the piece.
Students interested in submitting their research to the journal should keep their articles to five double-spaced pages.
Volunteering
Cancer Society develops youth-friendly community service model
In the past year have you done the dishes, cleaned your room or cut the grass without someone asking you to?
That's one of 10 questions on a quirky quiz designed by the Canadian Cancer Society to assess young people's commitment to volunteer activities. Depending on the results, graded as "sweet!" "meh …" or "aw man," students are directed to a targeted list of activities to help them meet the 40-hour community service commitment required for Ontario high school graduation.
"We hope to make volunteering cool, accessible and rewarding for young people," says Sylvia Leonard, vice president of community engagement for the Cancer Society.
Among the suggested activities are various fundraising options, volunteering at a regional cancer centre or clinic and participating in a cancer-prevention campaign. For more information, see my40hours.ca.
Keeping history alive
Writing contest commemorates heroic Battle of Hong Kong
There are only some 80 Canadian survivors of the Battle of Hong Kong, but an annual writing contest for high school students across Canada helps keep alive memories of one of the worst ordeals of the Second World War. Sponsored by the Hong Kong Veterans Commemorative Association, this year's competition asks entrants to write about one of four soldiers who heroically attempted to stop the Japanese in December 1941. Or they can write about Gander, the Newfoundland dog who was the Canadian troops' mascot.
Winners in the Grade 11/12 category receive $200; first prize for the Grade 9/10 group is $150. Last year John Maxcotto-Carbone, a Grade 12 student at Cardinal Newman Catholic Secondary School in Hamilton, won second prize in his category, while Colleen Grieve, a Grade 10 student at Bishop Reding Catholic Secondary School in Milton, placed first among the Grade 9/10 entries.
This year's deadline is May 21.
---
Hamilton teachers create hip approach to literacy
If the most effective way to reach a student's mind is through a Guitar Hero lookalike, a group of Hamilton-Wentworth DSB teachers have come up with a winning recipe. The five English teachers at Hamilton's Westmount SS have created a novel computer game, modelled on the best-selling Guitar Hero music video game, to teach basic literacy skills. Their Read, Write, Rock! is designed to help students prepare for the Ontario Secondary School Literacy Test.
Players can take one of two paths: "Write and go solo" or "Read and form a band." Hip-talking young musicians guide the students down each route.
The writing exercise involves editing a 400-word letter down to 100 words on "Why I Deserve a Guitar." The reading exercise helps students master the basics of answering multiple-choice and short-answer questions. "How did music videos affect the rock music industry?" is one of the sample questions.
Gregory Clark, OCT, Mary Bower, OCT, Chris Brun, OCT, Martin Cox, OCT and Kelly Davy, OCT spent 16 months developing the game. Student feedback helped them in their effort, an initiative under the Teacher Learning and Leadership Program.
To learn how the game works and obtain a copy, see Read, Write, Rock!
Obtaining immunity
A new video game teaches cell biology
Video gamers who want to attack something other than aliens, gangsters and terrorists now have an alternative. With the new three-dimensional game, Immune Attack, Grade 7 to 12 students can save patients suffering from a bacterial infection while developing an understanding of cellular biology and molecular science.
"Immune Attack players appear more confident in their ability to understand a diagram about white blood cells," says Melanie Stegman, the game's project manager.
Immune Attack can be downloaded free from the Federation of American Scientists web site.
French language
Québec education ministry adopts simplified spellings
The modernization and simplification of spellingsof some 2,000 French words was officially adopted by Québec's ministère de l'Éducation for use in Québec schools in fall 2009.
The initiative to rid French spelling of "anomalies and absurdities" originated decades ago with France's Conseil supérieur de la langue française and was reported in Le français Tidied Up (Professionally Speaking, March 2008) – following its adoption in several countries and by the usually conservative Académie française, watchdog of the French language.
Gone are many accents, circumflexes, double consonants, hyphens and foreign spellings. "Plaît" becomes "plait," "lunettier changes to "lunetier," "shampooing" is now "shampoing," the plural of "graffiti" is "graffitis," and "baby-boom" turns into "babyboum."
The introduction of spelling reforms in schools has provoked heated debate among intellectuals and educators. Traditionalists fear the erosion of the French language, while reformers believe that modernization is a good thing. In the middle stand the teachers who are implementing the new spelling.
It may be a challenge to unlearn something that was so tricky to learn in the first place, but fortunately old spellings are still acceptable, and both spellings are starting to appear in French dictionaries and grammar books.
For more information visit www.renouvo.org.
Environmental Education
The Eco-Friendlies join forces!
Last January, Grade 10 science students at école secondaire Étienne-Brûlé in the conseil scolaire de district du Centre-Sud-Ouest spearheaded an educational project to raise environmental awareness among the 184 students attending their elementary feeder school, Maison Montessori.
The project grew out of a partnership between the two schools and Green Communities Canada. The goal was to heighten young people's awareness of environmental protection.
The Ministry of Education's new curriculum for the environmental education program encourages students to get out of their classrooms so they can learn more about the environment through community projects.
This project also addresses one of the educational activity areas of the Politique d'aménagement linguistique (language planning policy), that of community involvement.
The educational strategy is based on getting young people at various academic levels to work co-operatively to implement what they are learning in their communities.
The student project leaders belong to Étienne-Brûlé's Eco-Friendly Group. The goal of their environmental activities is to raise the school community's awareness of the importance of environmental social action.
"Our activities are very important because they serve as an engine that encourages students to get involved in their communities in order to protect the environment," says Madeleine Mcdonald, who is the student president of the Eco-Friendlies.
Supervised by science teacher Mounir Ferrag, OCT, and fellow teachers of the same course, and with support from French teacher Françoise Ould-Said, OCT, and the francophone co-ordinator of Green Communities, Gabriel Sirois, the project has enabled the Eco-Friendlies to present a series of environment workshops for the youngest children at Maison Montessori.
And so it was that, on January 13, the mini Eco-Friendlies from JK to Grade 6 had a chance to explore eight booths offering educational environmental games that were designed and led by the high school students.
As they went from booth to booth, the young children could see an exhibit called "The Burying Project" carried out by Nader Allam, a Grade 7 student at Étienne-Brûlé, and observe the conversion of biodegradable objects buried for periods ranging from 10 to 25 days.
The next booths offered, among other things, workshops on nutrition and physical activity and a workshop in which students learned, alongside eco-friendly musicians, a song dedicated to the environment composed by Mounir Ferrag.
"We're proud to take part in this innovative educational project that fosters team work and the development of leadership in our youth. It emphasizes the benefits of an active lifestyle for better health and environmental quality," says Lisa Tremblay, OCT, principal of Maison Montessori.
For more information go to http://ecoresponsables.tiged.org/science10.
Education truth squad
Ad hoc group corrects media errors in reporting on education
Journalists had better be on their toes. A group of the province's education experts have joined together to combat "factual errors about education" that appear in media across Canada.
"People rely on the media, and if the information is incorrect, they may believe it," says Ben Levin, leader of the informal group known as Facts in Education. Levin, a former Ontario deputy minister of education and now Canada Research Chair in Education Leadership and Policy at OISE/UT, wants to dispel some common myths about education.
When he learned about a Winnipeg Free Press story stating that American charter schools had closed the "learning gap," the group fired off a letter to the editor citing research challenging this conclusion. "We don't want to denigrate any journalists," explains Levin. "We simply want to have a better informed dialogue on key education issues."
Members of the ad hoc group, facilitated by the Research Supporting Practice in Education program at OISE, are largely former senior Ontario educators. They include:
former Ontario deputy ministers of education Charles Pascal and Sue Herbert
former Toronto DSB education director Gerry Connelly
Lorna Earl, a director of the Education Quality and Accountability Office
OISE Dean Michael Fullan; Avis Glaze
the first CEO of the province's Literacy and Numeracy Secretariat
former York Region director of education Bill Hogarth
Canadian Education Association President Penny Milton
former BC deputy minister of education Charles Ungerleider.
---
Alberta doctors select non-member as president
In what is believed to be a first for any self-regulating professional body, Alberta doctors have chosen a non-physician as president of their college.
Irene Pfeiffer was chosen unanimously in December by her colleagues in the College of Physicians and Surgeons of Alberta, a group that includes physicians, members of the public and representatives from Alberta's medical schools. The appointment was effective January 1, 2010.
The college's primary role is to determine whether physicians have the necessary qualifications to practise medicine in Alberta. It also develops and enforces standards of medical practice and ethical conduct, and investigates/resolves physician-related complaints.
Pfeiffer, a businessperson with eight years of service on the Council, has held leadership positions with the Chamber of Commerce, University of Calgary, Mount Royal College and Rural Physician Action Plan. She is also an Order of Canada recipient.
visitors
Delegations regularly visit the College to share and gather information on a range of education issues to do with accreditation, certification and professional practice.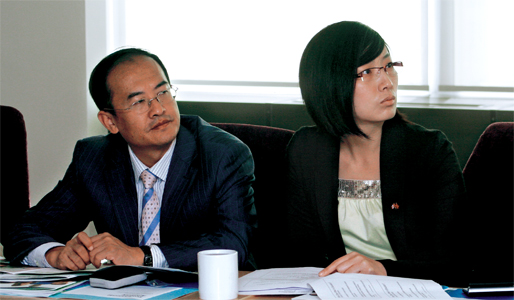 People's Republic of China
The Netherlands
People's Republic of China
notable dates
5–21 – International Francophone Week
Celebrates the language and cultural diversity of francophones worldwide.
7 – International Children's Day of Broadcasting
Broadcasters around the world air quality programming for, by and about children. This year's theme is All Children All Rights.
Reflect on the progress made, assess the challenges and consider future steps to enhance the status of women.
21 – International Day for the Elimination of Racial Discrimination
Fifty years ago on this day, police opened fire on a non-violent demonstration against apartheid in Sharpeville, South Africa and killed 69 people. The day calls attention to racism and the need to promote racial harmony.
22 – World Water Day
In an effort to boost the profile of water at the politcal level, this year's theme is Communicating Water Quality Challenges and Opportunities.
27 – World Theatre Day
Celebrates the power of the performing arts to contribute to understanding and peace among peoples.
April
7 – World Health Day

18–24 National Volunteer Week
22 – Earth Day
A time to recognize environmental gains, create new visions and unite around new actions.
24 – International Astronomy Day
Astronomy week is from April 19 to 25.
May
Speech and Hearing Awareness Month
World Press Freedom Day drawing attention to journalists who brave death or imprisonment to bring people their daily news.
3–7 – Education Week
Celebrates teaching excellence, student achievement and exceptional community support in Ontario's publicly funded schools.
18 – International Museum Day
Recognizing museums, which safeguard and promote Canada's diverse heritage.
25–28 Aboriginal Awareness Week
30 – June 5 – Canadian Environment Week
June
8 – World Oceans Day

20 – World Refugee Day
A celebration of the spirit and courage of the world's refugees.
Celebrates the cultural diversity of the Inuit, Métis and First Nations peoples.
27 – Canadian Multiculturalism Day
Celebrates diversity in Canada and a commitment to democracy.