Tools of the trade
The best of NETWATCH
NEW!
1 Spies in the Shadows
Espionage has a colourful history in Canada—this site helps bring it to life in the classroom. Visit the Teachers' Lounge for lesson plans, reading materials and more.
www.spiesintheshadows.com
NEW!
2 Homework Help
A math tutoring resource that supports students in Grades 7 to 10. Ask a tutor a question or view interactive tutorials on topics like fractions and decimals.
https://homeworkhelp.ilc.org/index.php
3 Historical Atlas of Canada Online Learning Project
Explore interactive maps from different periods of Canadian history. Browse the maps for such topics as Prehistory, Native Canada and Population.
historicalatlas.ca/website/hacolp/index.htm
4 Games For Change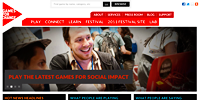 This site serves up online games based around social issues such as the environment, human rights, poverty and more.
gamesforchange.org
NEW!
5 Bullying Awareness:
Provides an in-depth look at bullying and research that aims to increase social awareness. Download it from the Teacher and Support Staff Resource Book link.
bullyingawareness.ca/
6 Incredible @rt Department
A resource-rich portal with lesson plans and links to art blogs and zines. See creations from other classrooms for inspiration in the Incredible @rt Rooms section.
incredibleart.org/
7 Purdue Online Writing Lab (OWL)
This site offers lessons on sentence structure, tense consistency, style and paraphrasing.
owl.english.purdue.edu/owl
8 I Education Apps Review
Looking for a cool app? This site links to all kinds, sorted by level, with reviews from teachers.
iear.org
---
To help you keep up with new and helpful ways to use technology in your classroom, we are launching a new column: Tech Class. For a sneak peak at what to expect, check out our feature of the same name on p. 34. And watch this page for other useful classroom tools.