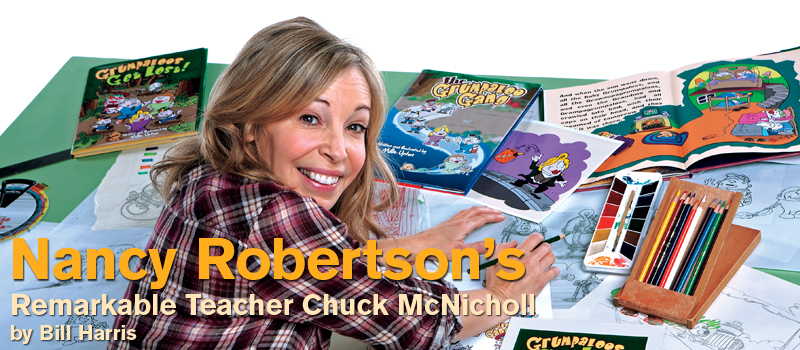 Lawrence Hill's Remarkable Teachers
Mrs. Rowe, Margaret Shinozaki and Donald Gutteridge
by Brian Jamieson
When Gemini-award-winning actress Nancy Robertson – star of Corner Gas and Hiccups – attended the reunion marking the 100th anniversary of her elementary school, someone was a little star-struck. It was Robertson.
She was nervous at the prospect of seeing her Grade 7 teacher, Chuck McNicholl.
Robertson recalls: "I said to a friend, 'I'll be devastated if he doesn't remember me.' I have such a fond memory of him, and he is such an important figure in my mind, but he has had umpteen-thousand students though the years, so it wouldn't be any big surprise if he didn't remember somebody.
"But he did. And he was so casual about it. He goes, 'Hi Nancy, how are you?' "
Robertson and McNicholl had not seen each other since Grade 7 at Kerrisdale Elementary School in Vancouver. "He always had very red hair, which is greyed now, but he looked exactly the same to me," Robertson says.
"It was so cool to see him again. He doesn't know this, but he was the main reason I wanted to go to the reunion. Grade 7 was just a really happy time. Seeing him again, I was almost star-struck in a way."
That's the way it is when you're young, isn't it? The best teachers, the ones who get to you, have a rock-star quality, at least in your memory.
For McNicholl's part, his recollections of Nancy Robertson as a Grade 7 student paint a picture of a budding young actress. "I don't think I could connect anything specific about her to her profession," says McNicholl, who is currently vice-principal at Vancouver's Tecumseh Elementary School. "I just know she had lots of spunk.
"Given her personality, just the way she was with her friends, it doesn't surprise me that she went on to do something more visible to the public."
Robertson certainly has been visible to the public over the past decade or so – best known for her leading role in CTV's Corner Gas (2004–09), in which she played the book-smart but socially stunted Wanda Dollard.
Firm, fair and consistent seems to be the pattern. And if you can throw in a touch of humour, that helps too.
The accessible but sneaky-clever Corner Gas smashed many stereotypes by proving that Canadian situation comedies don't necessarily have to stink. Corner Gas was a running success, but creator and star Brent Butt – now Robertson's husband – decided to end it after six seasons and has gone on to create a new sitcom, Hiccups, now airing on CTV with Robertson front and centre in the role of Millie Upton.
Robertson, who has received accolades and nominations for her diverse work on stage and in film and television, recalls that one of her first performances was in Chuck McNicholl's Grade 7 class.
"What he did – which was really great, because he knew we had these performing passions that we needed to get out – he had us do this little morning show just a couple of minutes before class," says Robertson, referring to herself and a childhood friend.
"It's not that we were really smart-ass kids, but we had a habit of just being silly and giggly. So we did the show, and anybody from the school could come and watch. Even a drama teacher from Point Grey Secondary (the high school that Robertson subsequently attended) came to take a look.
"We'd go through our parents' closets and dress up as these characters and do these little sketches," she recalls. "I can't remember how often we did it, to tell you the truth. But I remember thinking at the time: Hey, this guy is clever. He's letting us do this, but he's also doing it so we get it out of our system before the bell rings."
Sounds like a win-win situation.
"I just thought it was so kind, because he wasn't trying to squelch us," Robertson says. "And of course, I wound up becoming an actor.
"He's one of those people who was very dry. He's not goofy. He wasn't a patronizing teacher in any way. But he always had a little smirk on his face when we'd get up to stuff, and he always knew exactly what was going on."
McNicholl had a good laugh when that quote was relayed to him. "Well, with Nancy and her friends, it was easy," he said.
As Robertson went on to high school, ironically, McNicholl's aura was both a positive and a negative. On the one hand, his techniques made Robertson a more confident kid. But on the other hand, high school was disappointing by comparison.
Chuck McNicholl taught Nancy Robertson's Grade 7 class in 1974–75.
"I remember thinking, where are the Chuck McNicholls?" Robertson says. "I really missed him when I got into high school."
McNicholl was interested in those comments, not only because he appreciated the compliment, but because he also taught high school for 10 years.
"You have more ownership of the kids in elementary school, for sure," says McNicholl. "And that can be good and bad. If you have a good connection with them, it's wonderful. But if you have a bad connection with them, it's a long year, you know?
"In a classroom, you always have to remember there's a whole spectrum of kids. It will be all over the map. Some kids you'll really connect with – or they'll connect with you."
McNicholl has been in education for more than three-and-a half-decades, including three years in Germany and one year in Australia, and he's as passionate now as he was when he started.
"Oh, my passion for this line of work is still there completely, as long as I don't get too bogged down with the paperwork," says McNicholl. "I also fill in for teachers when they need spares. My real love has always been science."
When asked to sum up his philosophy of teaching, McNicholl says, "I'm demanding of them. I expect a lot. I've always had the bar set fairly high."
He's been told that he is somewhat strict, but fair and consistent.
"Firm, fair and consistent seems to be the pattern. And if you can throw in a touch of humour, that helps too."
Well, the approach sure made an impression on Nancy Robertson. After all, she was the star-struck one at that reunion.