Everyone is on a learning curve this year as the province starts to roll out all-day kindergarten.
by Jennifer Lewington
Lesley Hart's son Finley is off to kindergarten in September, which puts him in the vanguard of Ontario's bold move to offer full-day learning to four- and five-year-olds starting this fall. The London parent is excited about what lies ahead for Finley, who turns four in November.
"I know he's ready to learn," says Hart, president of the school council at Stoneybrook PS in north London where Finley and his two older sisters, seven and nine, are enrolled. "I hope he will be better prepared for Grade 1 and that he learns to read and write at a better level than when his sisters were there."
Stoneybrook is one of nearly 600 schools selected for phase one of the optional provincial program this fall. In 2011 over 200 more schools will be added, which means that up to 50,000 youngsters will benefit. Full implementation, with all-day kindergarten offered in all elementary schools, is planned for 2015–16.
Hart has high hopes but is also a little uneasy over the rollout of the province's ambitious agenda for a "seamless" day of child care and schooling that, if fully implemented, will rocket Ontario to the head of the class in North America.
"I know he's a guinea pig," says Hart of her son. "There is going to be a major learning curve here."
With her mixed emotions Hart is in good company. Amid public enthusiasm and stacks of Canadian and international research on the value of early learning to get youngsters off to a good start in life, parents, teachers, early childhood educators, principals, school board administrators and trustees all find themselves on a learning curve this school year.
That's because no template exists in Ontario for the sweeping changes unveiled last October by Premier Dalton McGuinty when he endorsed a blueprint for all-day kindergarten drafted by his special early-learning adviser Charles Pascal in a June 2009 report, With Our Best Future in Mind.
Pascal, the Executive Director of the Atkinson Charitable Foundation and a long-time advocate of integrated services for children, bluntly stated the imperative to act. "More than one in four children enter Grade 1 significantly behind their peers," he said, adding that many of them are middle-class children with learning and other difficulties. "Too many never entirely close the gap and go on to be disruptive in school, fail to graduate and are unable to fully participate in and contribute to society."
In recommendations adopted by the premier, Pascal laid out the must-haves for early learning in Ontario: play-based kindergarten for four- and five-year-olds in classrooms staffed by a teacher and an early childhood educator working together as professional teammates; school-based, parent-paid child care seamlessly linked to the school day; and a network of child and family centres giving easy access to services that support healthy child development, timely interventions and successful transitions for children from birth to age 12.
"This is the biggest positive transformational change I have seen in my career," observes Jim Grieve, OCT, the veteran school board director named last year as the Ministry of Education's senior official for the implementation of all-day learning. "The rest of the country is watching what we are doing," he adds. "We will all be pioneers in this process in the fall."
At present, with 238,000 children in part- or full-day kindergarten, no one school jurisdiction in Ontario incorporates all elements of Pascal's big-picture vision.
In the mid-1990s francophone schools in Ontario pioneered the introduction of all-day kindergarten for four- and five-year-olds, but without a partnership between teachers and early childhood educators. The province's 29 Catholic boards offer half-day, alternate-day and some full-day kindergarten, sometimes working with their own or third-party organizations to provide school-based child care. Public boards offer similar kindergarten options, sometimes with school-based parenting centres aimed at boosting preschoolers' physical, emotional and cognitive readiness to learn.
Transformational change
Putting all the kindergarten pieces in place for this fall – training and recruitment of teacher-early childhood educator teams, test driving an enriched play-based curriculum and making provisions for an extended day of school-run child care – has proven to be a tall order. Despite some heartburn over implementation, however, there is widespread consensus on the value of investing in children.
A strong body of international research over the past decade, including the work of Fraser Mustard in Canada, has come to a consensus on the value of high-quality early learning programs that include snacks throughout the day. Researchers conclude that children in such programs tend to score higher on math and reading achievement tests, reach higher levels of schooling, have lower dropout rates and benefit from improved nutrition and health. American economist James Heckman, a Nobel laureate, estimates that every dollar of investment in young children generates a return of seven dollars to society. Such a program has yet to be instituted in Ontario. Although $1 million has been allotted to training schools and teachers in nutrition, the provision of snacks will fall to the school boards, schools and parents.
"Early-learning kindergarten is the most innovative program we have seen in the province in some time," says Catherine Fife, president of the Ontario Public School Boards' Association. "We all need to remain committed to make sure it is successful." The next 12 months, she predicts, "will truly be a learning year for educators and the system."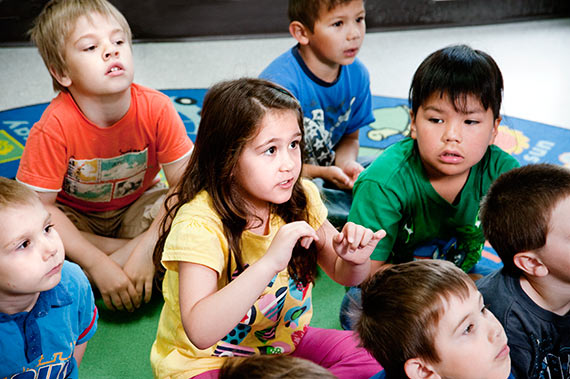 At Ogden Community PS in Thunder Bay, Senior Kindergarten students gather on a reading mat each morning to discuss a story read by Jerry-Lynn Durant, OCT.
A head start for some
Despite the scramble to get ready, some schools have a head start on key elements of what's supposed to unfold over the next five years. In Thunder Bay, for example, the new provincial mandate to staff kindergarten classes (for an average of 26 youngsters, up from the current cap of 20) with a certified teacher and a registered early childhood educator is old hat.
In 2002 the Lakehead DSB introduced all-day Senior Kindergarten, choosing to hire early childhood educators, with their specialty training in child development, to team up with classroom teachers, who understand curriculum and learning expectations. The board currently offers JK two days a week and plans to add full-day classes at five schools this fall.
"We believe we are well poised to succeed with this initiative," says Lakehead Director of Education Catherine Siemieniuk, OCT, basing her statement on years of positive classroom collaboration.
That team work seems to happen effortlessly at Ogden Community PS, a high-needs elementary school in south-end Thunder Bay. From the moment they arrive at school, teacher Jerry-Lynn Durant, OCT, and early childhood educator Shelley Crupi, ECE, are clearly on the same page, orchestrating a day of play-with-purpose for their 22 SK students.
The rest of the country is watching what we are doing.  
At one tot-size table several children play scientist to figure out which of the flowering plants in front of them will survive over the next week. Is it the one with plenty of water and light or another with drooping leaves that gets nothing at all? Durant coaxes the children to explain their reasoning before they settle down to draw pictures of their choice.
In an alcove just outside the classroom, Crupi pulls aside six students known to be struggling with their oral-language skills. Opening a big picture book about flowers, she asks: "What makes a 'fuh' sound?" One child pipes up, "Flower!" Before long everyone gets the hang of it.
Moments later, the entire class reassembles on a mat in front of Durant as she reads from the same picture book. The children who had extra help from Crupi throw up their hands with everyone else to join in the discussion with the teacher.
Making full use of play-oriented activities, the two professionals keep track of each child's progress in sounding out words, practising their letters and developing other skills. Throughout the day Crupi and Durant are in a running conversation about what they need to do to support the children's growth. Their relationship is built on mutual respect and communication.
"If you say you are a team, you have to function as a team," says Crupi, who will also serve as an at-the-elbow coach for the board as it carries out training for expanded kindergarten classes this fall. "Both people are equally important within the classroom. We have to remember we are here for the best interests of the children."
Months before she was scheduled to start kindergarten Jeremia had a chance to explore opportunities for play-based learning.
Durant, a teacher for the past seven years who switched to kindergarten in 2008, subscribes to the same philosophy. "It is very exciting to see the students make progress with two professionals working alongside them. We are able to have more small-group instruction to meet the needs of our at-risk learners."
As the teacher, Durant has the ultimate responsibility for report cards and communicating with parents – as is the case under provincial kindergarten rules approved in April. But Crupi is closely involved in assessment, with her observations treated as integral to formal reports to parents. Both she and Durant sign the monthly newsletters sent home and participate jointly in parent-child interviews.
The collaboration produces tangible results. In September 2009, 50 per cent of the Senior Kindergarten class scored in the at-risk category on an oral-language assessment. By the spring of 2010, the at-risk group was down to nine per cent of the class. "The children made great gains throughout the year," says Crupi.
Lakehead school officials don't sugar-coat the need for time and effort to develop meaningful professional relationships.
"In the beginning, it was very difficult to tease out what was the difference between the early childhood educator and the teacher," says Lakehead Superintendent of Education Sherri-Lynne Pharand, OCT. "After many years, we are only now getting clear and defined about what that role and job description is."
The school principal plays a critical role in fostering a spirit of co-operation. Ogden principal Denise Baxter, OCT, says her role is to listen and encourage regular conversations about student progress. Teachers from Ogden and a sister school meet every month or so, sharing experiences on success and difficulties in the classroom. "You need to touch base with teachers and early childhood educators," she says. "Ask how it's going and what they need."
Collaborative model
Make no mistake, though, the new collaborative model represents a significant cultural shift for teachers accustomed to working alone. Over the summer, school boards held informal meet-and-greet and formal training sessions for kindergarten teachers and early childhood educators. More professional development is planned for the coming school year to cope with issues as they arise.
"There is a lot of nervousness," concedes James Ryan, OCT, president of the Ontario English Catholic Teachers Association, which spent more than $500,000 this year on workshops and other training for kindergarten members. "It's a new way of doing things, but I think a lot of teachers look forward to the opportunity to work with fellow professionals."
Francophone teacher Céline Dahary, OCT, a much-admired kindergarten teacher at école Académie de la Moraine in Richmond Hill who has taught for 26 years, has worked in teams with other teachers and education assistants in the past. But she wonders about the adjustments looming in 2011, when her school is scheduled to join the provincial program.
"I have worked with other teachers before. We had the same strategy and approach, and it was a wonderful year," she says. "But you can have two people who don't share the same philosophy, and it is very hard."
Sheron Figueroa, OCT, a kindergarten teacher at Military Trail PS, one of the Toronto DSB's 71 sites for this fall, is well aware that she's heading into uncharted waters.
"I'm nervous like everyone else because of the unknown," she says. But she is also eager to explore the potential for a new dynamic in the classroom. "I'm going to have someone with me full-time that I can easily bounce ideas off. I'm hoping it's going to be a learning partnership."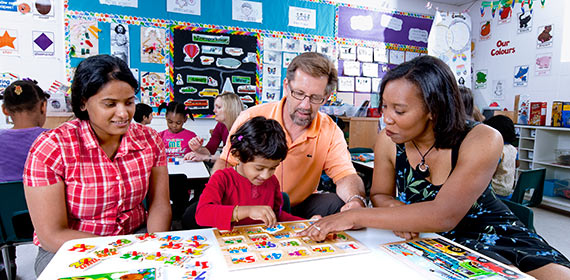 Parent Kajeinthinee McJoy and her daughter Jeremia, entering kindergarten at Military Trail PS in September, check out some played-based learning options with teacher Sheron Figueroa, OCT, and principal Ken Morden, OCT.
Also upbeat is parent Kajeinthinee McJoy, whose daughter Jeremia, almost four, is off to Junior Kindergarten at Military Trail this fall. "It's great she is going full-time instead of being in daycare," says McJoy. "Grade 1 will be easier for her because she'll know how to make friends and play in the classroom."
In one respect the high-needs school in east-end Toronto reflects the province's push for a seamless transition between pre-school child care and kindergarten. Strategically located in the kindergarten wing at Military Trail, a board-funded parent and family literacy centre regularly attracts between 50 and 60 parents including McJoy. That program is one reason she feels so comfortable sending her daughter to school this fall.
But like many schools across the province, Military Trail has no plans to add a school-run daycare as advocated by Pascal and mandated under provincial legislation requiring boards to offer an extended day of before-and-after-school child care. Uncertainty over fees, program content and other logistics has resulted in low parent demand this fall. Grieve estimates that only 10 to 15 per cent of schools this fall will offer an extended day of child care programs to parents, on a cost-recovery basis. He hopes that about 70 per cent of schools will do so over time.
Obstacles to getting there vary by region. "Most northern boards are very spread out, and the geography is not feasible for them," warns Thunder Bay school trustee Lori Lukinuk, first Vice-President of the Ontario Public School Boards' Association, adding that there is no provincial funding to transport children from after-school programs.
In southern Ontario, the Avon-Maitland DSB, which serves rural and small communities, is also worried about how to add the new component. "We want to go there, but we are finding that getting there quickly is a challenge," says board Director Chuck Reid, OCT.
The new collaborative model represents a significant cultural shift.  
The low take-up this year alarms child care advocates who have lobbied hard for a seamless day of school-based child care and learning that would minimize disruptions for children and their parents.
The vision of the seamless day was one of the core components of the Pascal report, observes Martha Friendly, Executive Director of the Childcare Resource and Research Unit, a policy research think tank. "If we don't have the seamless day, we will continue to have a patchwork."
Adds People for Education founder Annie Kidder, "I hope we haven't just wound up with all-day school for four- and five-year-olds, because I don't think that was the aim."
The Ottawa Catholic DSB, with its own child care services department and a history of offering after-school programs, is a rare exception in planning for the extended day at 12 sites selected for all-day kindergarten this fall. Karin Guité, manager of child care services for the board, estimates that schools will need to attract about 20 students to make the program viable. Her board expects that an early childhood educator in charge of after-school programs would be in close touch with the kindergarten classroom, arriving around 1:30 pm to ensure a smooth transition from one setting to the other.
Ottawa parent Pat Hamilton, whose four-year-old daughter Marlee is off to kindergarten at St. Patrick Catholic School, is thrilled about the bonus of an after-school program. As well as paying less for day care with Marlee in full-day kindergarten, Hamilton will be able to pick up her daughter and son Callum, in Grade 2, from the same spot.
Once school gets under way in September, the spotlight will fall on the new early-learning kindergarten program, a blend of the 2006 kindergarten curriculum and a well-established early childhood document, Early Learning for Every Child Today. The new document remains as a draft for a year to give time for feedback from teachers and early childhood educators.
The notion of play-based learning is gaining strong currency as an effective strategy to engage young learners and set them up for success in school. One such success story comes from Bruce Junior PS, which was slated to close in 2002 before its selection by the Toronto DSB as a demonstration site for the integrated delivery of child care, kindergarten for four- and five-year-olds and parent supports. The collaborative approach has proved to be a winner – there's now an enrolment line-up at Bruce – as has its play-based approach to learning, with a teacher and early childhood educators in the classroom.
It may look like child's play, but it's not.  
At Bruce a joyful demonstration of play-based learning lights up the Room 3 kindergarten, a former gym transformed to stir a child's imagination. Teacher Dora Bilic, OCT, and two early childhood educators, Caitlin Paterson, ECE, and Barbara Lambrou, ECE, roam the room working with the four- and five-year-olds in small groups or with the whole class. Youngsters move at will from one activity centre to another – a water table for science experiments, an alcove for drama and art, a chair for quiet reading, a space for math games and even an area designed for playing with wooden blocks.
It may look like child's play, but it's not.
A recent outing in the schoolyard to study shadows has all the appearance of a game, as some children stand in the sunlight to create shadows, which others outline in chalk on the asphalt. Beforehand, the teachers and the early childhood educators mapped out how to help the children make the most of the play-like experience, such as working in teams to build social skills and writing down observations to build their capacity for scientific inquiry. Later, photographs of the outing are posted on the kindergarten wall with explanations from students about their discoveries.
"When the sun is covered our shadows are gone," writes one child. "When the sun comes back our shadows come back."
The play-oriented approach encourages a sense of wonder in the children and nurtures their enthusiasm for learning, says Bruce principal Jonathan Root, OCT. "It is play, but it's purposeful play with intentional teaching behind it."
For Bruce and a handful of other schools, the future of all-day learning has already arrived. For others racing to implement the provincial vision, the months ahead will test everyone's capacity to learn. "The outcomes for this are going to be revolutionary," predicts Pascal. "The approach we are taking to get there is evolutionary."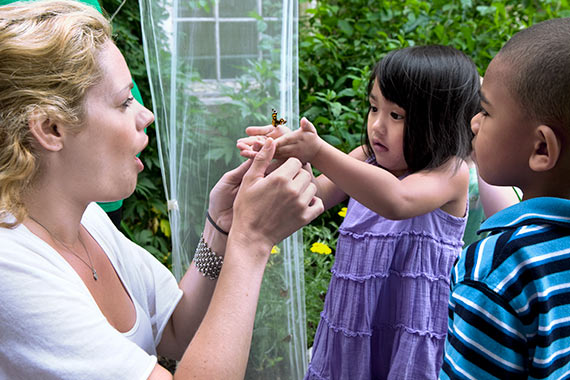 Caitlin Paterson, ECE, partners with another early childhood educator and teacher at Bruce Junior PS in Toronto.
Who's head of the class?
In extending all-day kindergarten to four- and five-year-olds, Ontario moves to the head of the class in Canada.
Here's what is happening elsewhere:
Alberta: mostly half-day programs for five-year-olds
British Columbia: full-day kindergarten for all five-year-olds by 2011, half of them eligible this September
Manitoba and Saskatchewan: limited options for four-year-olds and part-day for five-year-olds
New Brunswick: all-day kindergarten for five-year-olds
Nova Scotia and Québec: some four-year-old kindergarten and full-day for five-year-olds
Prince Edward Island: mandatory full-day kindergarten for five-year-olds starting this September.
Francophone concerns
For cultural, linguistic and education reasons, francophone schools in Ontario were pioneers in offering kindergarten in the mid-1990s. Today, francophone officials warmly endorse the province's move to offer two years of early childhood education on a universal basis by 2015–16. But they also predict there could be unintended side effects for their schools.
Of particular concern is the potential for increased competition to enrol kindergarten-age children from English-language public and Catholic boards that offer French Immersion programs.
"That's a big issue for us," says Jean-Luc Bernard, OCT, Director of Education for the conseil scolaire de district Centre-Sud-Ouest, the largest French-language board in the province with schools from Windsor to Trenton. Typically, francophone schools draw from a large geographic area, which requires busing students.
"If you have a school in your neighbourhood that offers JK and SK French Immersion and a francophone school with a 45-minute bus ride, which one would you prefer?" asks Bernard.
Another issue is that there will be an increased demand for qualified, French-speaking early childhood educators once the provincial program is fully implemented.
"It's our first concern right now to have qualified ECEs, and apparently we do have enough," says Bernard. But he predicts that when the program is fully implemented there will be a shortage and that urban boards may be able to offer higher salaries and benefits.
At école Académie de la Moraine in Richmond Hill, with two classes each of JK and SK, principal Baher Morcos, OCT, worries that he may not be able to find qualified ECEs when his school is added to the provincial program in 2011. Francophone ECEs will be in demand for the classroom and for school-run child care programs.
Currently, a private daycare operates at his school of 230 students, but he expects that arrangement to change, given the provincial rules. "There are lots of question marks," says Morcos, among them possible conflicts between schools and parents over fees and other logistical arrangements for the before- and after-school programs. "It's going to be a challenge."
What's next?
One of the most far-reaching proposals in Charles Pascal's early learning report, With Our Best Future in Mind, calls for an end to fragmented support services for children up to age 12 and their families.
The proposal remains a work in progress.
In April 2010 the provincial government appointed Pascal as a special adviser to the Minister of Children and Youth to work with municipalities, school boards, non-profit agencies and other groups to better co-ordinate services and improve access to them for families of young children. In April of this year, as a first step, Education Minister Leona Dombrowsky and Children and Youth Services Minister Laurel Broten announced the phased transfer of child care policy and program responsibilities to the Ministry of Education.
"Bringing child care and education together under one ministry will create a more integrated system that facilitates smoother transitions for young children and their families," they stated in an open letter.
In his report, Pascal recommended an integrated network of Best Start Child and Family Centres, such as those under way in the district of Timiskaming, the rural areas of Lambton and Chatham-Kent, and Hamilton's east end. At neighbourhood locations, families tap into a continuum of services related to early learning, child care and healthy development.
"We will build on the momentum of Best Start," says Pascal, with lighthouse examples set up over the next 12 to 18 months to demonstrate the co-ordination of municipal, child care and education services to improve parent access to early intervention and other programs for their children.
"Four- and five-year-old kindergarten is a remarkable achievement in and of itself," Pascal adds, speaking of what the province has already put in place. "But what happens to kids before they turn 3.8 years [the eligible age for kindergarten] is critical to that investment paying off even more."