Shaping Our Schools
Schools today must respond to capital and ongoing cost concerns, integrate various community and institutional demands, and accommodate a wide range of student needs and abilities.
Thanks to evolving building codes and construction practices, disabled access is now a basic requirement for schools, and while the ecological footprint of new schools is not always ideal, energy efficiency is increasingly on the design agenda.
But how do architecture and design deliver a better environment for teaching and learning?
by Alex Bozikovic
In Megan Schroeder's class, Grades 4 to 8 students learn to dance in front of the whole world – or at least whoever is passing by the Claude Watson School for the Arts in North York. That's because Schroeder's dance studio features a row of picture windows facing onto the street, which lets pedestrians get a look as students study jazz and modern dance. "I watch people go by, and they just kind of peek in and see what's going on," Schroeder says. "I think it's improving our stance in the community and letting people know what we do."
This may be an unusual classroom experience, but it's becoming more common as a wave of new Ontario schools like Claude Watson – a magnet elementary school for the performing arts, whose new building opened in 2005 – builds on ideas like transparency and flexibility. For educators and students, this means better, brighter design, schools that have flexible usage and adaptable learning techniques, and buildings that play important roles in their communities.
Transparency
As Schroeder has learned, when it comes to architecture, sometimes a single detail can serve several purposes. Those windows in the dance studio may give the school a public face, but of course light also has a strong impact on a classroom, lifting the mood and stimulating creativity.
"Just having windows in a space like that really improves the quality of the work the kids do," Schroeder says. "I try to bring a lot of outside connections into the class, and the windows remind them that there's a whole big world that we're a part of."
Claude Watson School for the Arts in North York, Kohn Shnier Architects
For a new school in the Conseil scolaire de district catholique de l'Est ontarien, letting light flow was an important factor in creating a school that functioned well as a learning environment and felt good to students. These were important goals for École élémentaire catholique de l'Ange-Gardien, which opened in North Lancaster, northeast of Cornwall, in 2005. Previously, students attended three country schools, and principal Ginette Forgues Hurtubise saw the new school as an opportunity to build "the school of their dreams." Students were involved in setting criteria. Near the top of their lists, they wanted "not to have to eat in the classroom or gymnasium," so Séguin Racine Architectes et Associés created a "beautiful" dining room that would build spirit. "There is lots of natural light everywhere," Forgues Hurtubise says enthusiastically.
That openness carries through into the classrooms and library. The library is located next to the computer lab, with a glass wall in between – so, as Forgues Hurtubise explains, "Teachers supervising a class in the library can send some students to look something up on the Internet and still have them in sight."
She notes that this flexibility, which accommodates more than one learning activity at a time, is extremely valuable for teachers as they try to meet the needs of different students. And the improved visibility means increased security for the children.
"We are bringing more daylight into schools today. That's one of the most significant changes in schools in recent decades."
Visual connections – both within and without – are on the agenda for any new school building these days, comments the Toronto DSB's Sheila Penny, who oversaw the design and construction of Claude Watson's new building by Kohn Shnier Architects. "It's very important to have an abundance of daylight," she says, "and to connect kids to the physical world beyond the confines of the classroom."
Architect Edward Cuhaci, who began designing schools in the 1960s, and has numerous projects in the Ottawa region and eastern Ontario, agrees.
"We are bringing more daylight into schools today. That's one of the most significant changes in schools in recent decades," he says.
Advances in glazing technology, Cuhaci adds, have largely eliminated leakage problems with skylights. He credits such technological progress with making possible the central atrium of Holy Trinity Catholic High School in Kanata – a feature successful enough to be reiterated in several Cuhaci-designed schools since.
The site for the school was fairly restricted, so Cuhaci proposed a three-storey structure with a central atrium. This reduced the building's footprint and introduced light at the core. Classrooms are stacked vertically, many with windows facing in to borrow light from the atrium's skylight. The light-filled atrium has contributed positively to the overall school environment.
"There are two huge trees and we have benches around the four pillars, so it's a very appealing and open place," says principal Susan Arbour. "Students hang out in the atrium during spares, talking and working on assignments. They love it and I can see what's going on. It makes it easy for me to find students when I need them."
Security
At Claude Watson, sightlines also contribute to a safe and secure environment. From the main entrance at the top of a grand staircase, a single teacher can keep an eye on all the school's outside space – the yard and the staircase itself, which is covered by a third-floor overhang and works as an informal outdoor auditorium.
The principle – eyes on the schoolyard – pays dividends in a secondary school environment as well, and educators with the Waterloo Region DSB kept that in mind when they started planning a new school near the city's western edge. When Sir John A. Macdonald Secondary School opened in 2004, it featured a set of bright public areas designed to facilitate what's called passive supervision. The school's main office looks onto the atrium, and wide-open corridors stretch out in four directions. The 1,500 students can gather in the atrium, or in one of several open spaces on three levels.
| | |
| --- | --- |
| | |
| Holy Trinity Catholic High School in Kanata, Edward J. Cuhaci and Associates Architects | Sir John A. Macdonald Secondary School in Waterloo, Robertson Simmons Architects |
"There is supervision throughout, and yet it doesn't feel like a prison yard," explains Laird Robertson of Robertson Simmons Architects, who designed the building. "We've tried to create a three-dimensional community." Robertson describes the school's central spaces as its agora, after the public squares of a classical Greek city.
Just steps from the bustling middle of the school is the library. Librarian Nancy Froklage says that the quiet, bright, two-storey room reflects a welcome change from the largely windowless 1970s school where she last taught. "In that structure, it's a mentality, isn't it?" she says. "You go through the doors and they bang behind you like the gates of Jurassic Park. There you are. But this school has none of that feeling. Even the stairwells are wide and lit. There's no place where you're without outside visuals. So you can dream."
Ecology
Managing the flow of light and air is also crucial to achieving energy efficiency. At Holy Trinity, interior classrooms borrow light from the central atrium's skylight. The addition of a third storey reduced exterior wall surfaces and rambling hallways to make heat loss/gain more manageable, while the atrium and more compact footprint make air exchange more efficient.
At Thomas L. Wells Public School in Scarborough, architects Baird Sampson Neuert followed today's best sustainable design practices in setting up the school's windows and views. Most classrooms feature large south-facing windows, with views onto a nearby park or school courtyards. But those windows don't just let light in – they direct it. In each classroom, a set of horizontal "light shelves" reflects high summer light onto the ceiling, but lets low-angled winter sunlight reach far into the classrooms.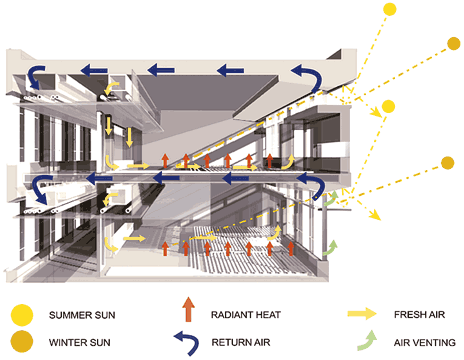 Thomas L. Wells Public School in Scarborough, Baird Sampson Neuert Architects
In this building – which the architects describe as "a system of systems" – the sun's heat also gets put to use. Warm air near the ceiling is brought into heat-exchange units that feed vents down near the floor, helping control the temperature in an efficient manner. Other ingredients include natural ventilation: each classroom features two strips of windows, one at the eye level of small children and one at the ceiling. By opening and closing the two sets of windows, teachers can control the temperature effectively at any time of year. And while that can be a chore, architect Barry Sampson suggests it has helped the school instill students with a sense of responsibility – and possibility – about dealing with environmental challenges.
Air quality is another subject that got design attention. In choosing materials, the architects were careful to avoid paints and surface materials that emitted harmful chemicals. This added to the cost, and Sampson praises the Toronto DSB for its attention to the issue. "These are the most difficult aspects of green design to quantify," he says. And yet, "If you have materials that are making teachers you are paying stay at home, or making students stay at home, then there are costs involved."
Flexibility
Just as it can be tricky to manage the balance between upfront costs and long-term benefits, those designing school layouts must keep in mind future possibilities while considering current needs and preferences.
When it came to the set-up of her library, Sir John A. Macdonald's Nancy Froklage was able to get creative. Working with the architects, she asked for the busy computer area to be placed at one end of the room – right by her desk – and for the quiet stacks to stay at the other end. In between is a "living-room" area, where students can read in an informal setting, and a classroom with a smart board for presentations. And it's all totally rearrangable.
"I don't expect this to suit the next librarian," says Froklage, an outgoing type who admits to being "a bit loud" compared to her colleagues. "If you saw the floor plan of this library and what I've done with it, you'd see how much freedom I was given."
Spaces that can be used in different ways are a hallmark of Sir John A. Macdonald, as in other well-designed new schools. The classrooms are arranged in clusters of three to five, each with windows looking onto a shared resource area in the middle. Teachers call these groupings "pods," principal Julie Telfer explains. The shared resource areas provide extensions of the classroom – separate from the hallways. They're suited to individual or small-group work, guest speakers or extracurricular activities. And, she suggests, they also create a sense of community. "The five teachers who are in a pod at any given time have the opportunity to talk: 'How are we going to assist each other?'"
Collaboration
According to Jeffrey Chard, Sir John A's head of history, "You can't help but collaborate in that environment." But the pods have added impact, he says. Chard's department (like others in the school) posts subject material in the common areas to stimulate discussion, and the pods are extremely useful in achieving differentiated learning.
"We use them a lot for peer learning – sometimes you match the stronger with the weaker," he says. "And also it's a great opportunity to teach a lesson, give the class something to do, and then walk off in the pod to have a conference with a student. As long as the door's open, you're still supervising."
His colleague Paula Lebrun, the school's co-op co-ordinator, adds that the set-up helps teachers build relationships, not just with other teachers, but also with students who aren't in their classes. "It requires you to interact with your colleagues and with students that you may not teach," she says. "And that's a positive thing all the way along."
Accommodation
Architect Laird Robertson explains that the idea of clustering originated in elementary school design back in the late 1980s and early 1990s, following changes in pedagogy taking place at the time – especially the increased emphasis on accommodating different learning styles. Now that differentiated learning is firmly established, many elementary schools are experimenting with clusters – like St. Gabriel Catholic (Elementary) School, which opened in 2003 to serve a new community on the edge of Brantford.
At St. Gabriel, Grade 1 teacher Gillian Parsons says the school's layout has had a significant impact on student experience. Compared to buildings with isolated classrooms, "There's more of a familial attitude within the school." Standing near a vivid green wall in her brightly lit classroom, Parsons jots down a list of characteristics she sees in the school's culture: co-operation, collaboration, collegiality, communication technology and community. It's the school's shared learning areas that make all this possible, she explains.
At St. Gabriel, pods of about 400 square feet – with windows just like the ones at Sir John A. Macdonald – serve various purposes. They offer computers and extra space for one-on-one or group learning with teachers or parent volunteers.
"I'm not just the Grade 1 teacher. There's a respect going on amongst all the teachers and all the students."
"I really like the idea that parents can look in the windows and see what's going on," Parsons says. And since she shares her cluster with other primary classes, it's easy to share resources, whether computers, learning materials or simply the teachers' attention. "I will monitor three classrooms during a supervision period, so that I'm not just the Grade 1 teacher. There's a respect going on amongst all the teachers and all the students."
Principal Louis Yacobucci says it was clear from the start that the pod system, which defines smaller groups within the school, also leads to flexible social and educational connections across the student body. "The children start to know one another."
The school has formally encouraged such connections through a buddy system linking younger and older students, and the results can be surprising. "The Grade 8s are buddied with Grade 1s," says Yacobucci. At assemblies, he adds with a laugh, "It is the little buddy who keeps the big buddy in line."
To him, the pod system is reminiscent not of the 1970s but of a much earlier period. "Originally we used to have the one-room schoolhouse, where everyone worked together," he points out, "and it's starting to happen again."
Building community
Just as those one-room schoolhouses of rural Ontario played an important role in binding communities, so do many of the larger new schools today – though with some differences.
École de l'Ange-Gardien brought together a previously scattered community of students. That process isn't unique to rural schools; in fact, suburban schools can serve much the same purpose, and following Ministry of Education directives, many new schools are designed so that gyms, libraries or auditoriums can easily serve as public spaces outside of school hours.
The design of a school can also help a community turn the corner on a negative history. This seems to be the lesson of Peetabeck Academy in Fort Albany, where a building constructed in 2001 was designed to reflect aboriginal values. "It replaced the old St. Anne's school building, which had a history as a residential school," explains Danny Metatawabin, Director of Education for the Mundo Peetabeck Education Authority. "We wanted parents as well as students to feel comfortable and safe with the building, to stay away from the historical abuses represented by the former school."
Peetabeck Academy in Fort Albany, H. Bradford Green Architect and ANO Architects
To achieve that, the architects – H. Bradford Green of Thunder Bay and ANO Architects of Timmins – planned the school with some potent symbolism. It is organized around a circle, with a large firepit and dream catcher in the middle: "A central gathering place for the community to tell stories," Metatawabin says.
Roch Belair of ANO Architects says that community consultation at the beginning of the design process – with community representatives, the chief and council of Fort Albany, elders, parents and students – was crucial. As outsiders, he and Green found themselves confronting a long history of fraught dealings with the federal government. At first he was greeted with suspicion: "What are you guys going to do to us now?" he paraphrases.
But discussions generated a number of themes for the building. "The idea they wanted reflected was their path of life," Belair explains. "Hunting, the seasons, the passing of time from east to west. So you enter the building on the east, exit on the west, and the classrooms move chronologically in that direction, from kindergarten on up."
Peetabeck's extensive range of educational activities – it serves students from JK to Grade 12, and even some older students pursuing a satellite post-secondary program – benefit from the unusual shapes of the school's rooms. "There are traditional classrooms entered from a hallway," Belair explains, "but there's a non-traditional geometry. Classrooms have privacy, but inside they're a different shape since they're built around a circle."
The school's exposed roof beams also reflect the local building tradition – and in fact the structure was built by local labourers, whose participation made it possible, given the prohibitive cost of importing labour and materials. The involvement of the community is a point of pride for Belair, and so is the response the project has received in the community. "If it awakens one child, or two, if they draw something from the building," he says, "then I've done my job."
Community access
Though communities may identify different needs and priorities, many essential tasks are the same, and the job of community building is equally important in newly formed suburban neighbourhoods. Auditoriums, libraries and gymnasiums may be made accessible outside of school hours – either via additional, separate public entrances or because they are strategically situated within the school.
St. Gabriel Catholic School is a fine example, located on the suburban outer edge of Brantford. "Because this is such a new development, there aren't really any community facilities as such," says Wally Easton, Associate Director, Corporate Services of the Brant Haldimand Norfolk Catholic DSB. "So the two schools out here have become community halls."
This didn't happen by accident. For St. Gabriel, Easton and the board asked ZAS Architects to design a building around the theme of "connection and communication." The architects responded with a couple of unusual elements in the plan. A central courtyard, for one thing, lets light into the library and the school's inner corridors. And the gym/multipurpose room is set right up against the front facade of the school, ready for access by members of the public. Both the library and gym are close to the school's front doors, so they can be open after hours, when most of the school is locked down.
Some of the architects' choices are symbolic as well as practical. The gym is lined with large windows (of safety glass, of course), intended as a visual message, inviting the community in.
"One concept was that when people come into the school, they should see what the kids are doing," Easton says. "Kids are what schools are all about, so we've put them front and centre."
This school features a sort of front porch, lined with brightly coloured steel columns and a large sign that asserts the school's identity. While most of the school is red brick, like the houses in the neighbourhood, the front porch makes a strong contemporary statement.
Many of the best-thought-out new schools exhibit similar combinations and juxtapositions: rather than reproduce the architectural styles of a century ago, they make friendly 21st-century statements. The Toronto DSB's Sheila Penny, an experienced architect who has been a strong advocate for quality design in schools, says her board thinks very carefully about design, including how to set an example with environmentally conscious architecture.
"It starts with ensuring that the building has a place of importance in the community and that it is responsive to the natural world," she says. "But also, and more importantly, that it is welcoming to parents, community and especially small children.
"We just have to make sure it has a civic presence and responds to natural and man-made cues."
École de l'Ange-Gardien in North Lancaster, Séguin Racine Architectes et Associés
Take the Claude Watson School for the Arts. The school's original building was collegiate gothic in style and dated back to the 1920s, when the surrounding area was rural. The new building, which is surrounded by an expanding group of high-rise condominium towers, responds to its urban context with strong colours and dramatic forms. Teacher Megan Schroeder, who worked in the old building, says this makes perfect sense for a school that is meeting the demands of this century.
"I think the old school showed more of a traditional approach to learning," says Schroeder. "This one takes a more contemporary approach. We're taking our work in another direction, and the school is reflecting that."