Transition to Teaching
Emerging employment crisis for new English-language teachers
Many education graduates found lean pickings when they searched for their first Ontario teaching jobs in the 2006–07 school year. Only two in five (41 per cent) of 2006 graduates found regular employment by spring 2007. This low job success rate was even worse than the 51 per cent rate experienced by new graduates the year before.
The province's English-language teacher employment market is now highly competitive. New teachers compete for jobs with large numbers of surplus teachers, many of whom are still hoping to move from occasional to regular teaching jobs one, two or even three years after graduation. Competition for longer-term occasional assignments is especially challenging, with many recently retired teachers in this job market.
It has been very difficult to get any sort of teaching position. I applied to five school boards and literally hundreds of postings before getting on a supply teaching list.

Elementary occasional teacher, Toronto region

Many supply positions are filled with retired teachers, which limits the opportunities for new graduates.

Unemployed primary-junior graduate, northeast Ontario
Fewer than one in three first-year English-language teachers (32 per cent) found regular jobs.
Fewer than one in three first-year English-language teachers (32 per cent) responding to this year's Transition to Teaching surveys report they found regular jobs. Nearly two in five (38 per cent) say they did not find enough occasional, contract or regular employment to teach as much as they wanted in their first year in the profession.
Location and grade level count in early job prospects
Most new Toronto-area English-language teachers are limited to occasional teaching, but their 45 per cent success rate in securing regular jobs far outstrips the 21 per cent rate for those trying to get established outside the Greater Toronto Area (GTA). And almost half of those working beyond the GTA (44 per cent) say they were underemployed in their first year of teaching.
It is a very slow, very frustrating process. If you don't know someone to get you in, or speak French, you're out of luck.

Junior-intermediate occasional teacher, central Ontario
Across the province, only one in four primary-junior-qualified teachers found regular jobs.
Elementary teachers are suffering most in this weak English-language job market. Across the province, only one in four primary-junior-qualified teachers found regular jobs, compared with 29 per cent of junior-intermediate and 43 per cent of intermediate-senior new teachers. The job market outside the GTA provided regular teaching jobs for just one in six primary-junior teachers and fewer than one in 10 junior-intermediate teachers.
Percentage of 2006 graduates in regular English-language teaching jobs by spring 2007
primary/junior
36
17
25
junior/intermediate
53
9
29
intermediate/senior
52
33
43
technological studies
60
57
58
all divisions
45
21
32
The English-language teacher surplus now includes secondary teaching subjects that only recently experienced a short supply of qualified teachers. No longer are secondary teachers of math, science and computer studies enjoying the competitive advantage they once held over secondary teachers with other subject qualifications. Across the province, slightly more than one in three (35 per cent) of these first-year teachers with previously high-demand qualifications found regular teaching jobs last year, a weak success rate that is even lower than that of secondary qualified teachers in general. They report similar underemployment rates, with 30 per cent saying they wanted more work than they were able to find in 2006–07, compared with 29 per cent for secondary qualified teachers in general.
It was extremely difficult. I tried volunteering and consistently applied to postings in three different boards, but no luck until the one interview in which I got recommended to supply. One interview out of the hundreds of applications! I still apply to the positions in secondary in hope of getting into a high school assignment.

Math and science graduate teaching elementary occasional
Demand remains strong for English-language technological studies teachers, however, with only slight declines from the success rates for new teacher education graduates the previous year. Fifty-eight per cent of the 2006 graduates report employment in regular teaching jobs in 2006–07 (down from 59 per cent last year) and 12 per cent report underemployment, compared with six per cent in the 2005–06 school year.
How the English-language teacher surplus came about
The balance of the annual supply of new Ontario teachers and teacher retirements changed dramatically over the past decade.
In 2000, new Ontario teacher education graduates with first-time teaching certificates numbered 6,666. They were joined by 589 new Ontario teachers who completed their teacher education at US colleges bordering the province. A further 1,602 teachers from other provinces and countries brought the total count for the year to 8,857 new teachers available to staff vacancies in public and independent schools in Ontario.
Teacher retirements hit record highs as the new decade began. In the five calendar years from 1998 to 2002, on average, 7,096 Ontario Teachers' Pension Plan members retired annually. These retirements, along with other teaching-position vacancies in public and independent schools, created ample opportunities for new teacher employment across the province – in all grade levels, subjects and school systems.
Increasing teacher supply and declining teacher retirements in Ontario
newly certified teachers
2000
8,857
2006
12,434
average annual retirements
1998–2002
7,096
2003–2006
5,325
1,761
7,109
As the decade advanced, a large decline in annual teacher retirements along with substantial increases in new teachers generated a significant imbalance in teacher supply and demand. With the expansion of Ontario teacher education capacity (28 per cent increase since 2000), the increased US border college recruitment of Ontarians to programs designed for the Ontario market (up 200 per cent), and strong growth in the annual intake of teachers educated in other countries (up 175 per cent), the employment market balance at the beginning of the decade changed to a huge oversupply. The annual new teacher surplus of 1,761 at the beginning of the decade grew more than 400 per cent to 7,109 by 2006.
This trend shows no signs of early correction. Teacher retirements are heading below 5,000 annually in the next few years, and new teacher numbers in 2007 are on track to surpass the high level reached in 2006.
Longer time spent in occasional teaching
The impact of this growing teacher surplus is evident in the decreasing success of new entrants in finding regular teaching jobs, increased reports of underemployment and increased months and years in occasional teaching.
Most new English-language teachers spend their early months, and even their early years, in daily and long-term occasional teaching, with many teaching on a part-time basis. Only one in four (24 per cent) of the 2006 graduates started in a regular teaching position in the 2006–07 school year. Toward the end of the school year, 10 per cent were not teaching at all and 37 per cent of those who were teaching did so only on a part-time basis.
During my three years as a teacher, I've taught at four different schools with different assignments. I love teaching but the uncertainty is stressful and makes it difficult to make any long-term plans. I look forward to the day when I won't worry about whether or not I'll have a teaching job in September.

Elementary long-term occasional teacher, eastern Ontario
A large decline in annual teacher retirements along with substantial increases in new teachers generated a significant imbalance in teacher supply and demand.
That was then.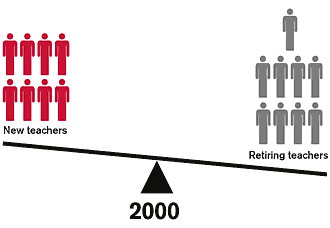 This is now.
The trends emerging from several years of new teacher surpluses are now clear. In 2004–05, nearly half (47 per cent) of new English-language teachers found regular teaching jobs in their first year. This dropped to under one in three (32 per cent) among those seeking a first teaching job in the 2006–07 school year. Over the same time period, reported underemployment among first-year teachers grew from 29 per cent to 38 per cent. In 2007, many more third-year teachers were still not employed in regular teaching jobs than was found in 2005 surveys.
Percentage of English-language teachers in regular jobs and underemployed
2005
47
29
15
2006
44
29
21
2007
32
38
22
Border college grads lag far behind Ontario grad job success rates
Last year 1,744 teachers joined the Ontario teacher work force after completing teacher education degrees at US border colleges. Most of these new teachers are Ontarians who chose these programs as their entry to teaching in the province. These new teachers have much lower rates of success in finding Ontario teaching employment than Ontario faculty graduates. Only 10 per cent of them started in regular jobs, compared with 32 per cent for Ontario graduates.
Because there are so many unemployed teachers, it is very difficult if you don't know anyone. I cannot even get supply teaching.

Unemployed US border college primary-junior graduate
Lower percentage of border college graduates find regular jobs in first year
Ontario faculties
37
52
44
US border colleges
16
28
19
Toward the end of the first school year, fewer than one in five US border college graduates (19 per cent) had found regular jobs, compared with 44 per cent for those from Ontario faculties. This weaker success rate applies equally across divisions.
---
Transition to Teaching 2007