The Role of Explicit Music Instruction in Developing Literacy
by Kate Lushington
Professor Jonathan Bolduc greets 15 Junior Kindergarteners at the door of his Mus-Alpha Lab at the University of Ottawa wearing an enourmous pair of spectacles. He is a familiar face to the children, who come to the lab every week to participate in his latest research project, but the spectacles are a surprise.
From January to April, eight classes (four JK and four SK) from the nearby école élémentaire publique Francojeunesse were the subjects of a study led by Bolduc to examine the effects of music learning on the development of phonological-awareness skills and to see which method can provide the greatest enhancement in emergent literacy.
Bolduc teaches culture and literacy in the Faculty of Education at the University of Ottawa and recently received the faculty's New Researcher Award. He and his colleague Pascal Lefebvre, a professor of speech therapy from the faculty of science and health, have created between them a unique interdisciplinary approach to early music and language instruction. Together with a graduate student with classroom experience, they designed a multi-use research project - one that provides answers to their basic research questions on the pedagogical links between music and language learning. It also promises practical tips and specific activities for classroom teachers who want to enhance their students' abilities in reading and writing through music.
Welcome to the lab
The children, curiously following their oddly bespectacled professor into the lab today, are unaware of their importance as key members of a scientific study. They are simply eager to join in the day's activities. A scented candle welcomes everyone with the delicious smell of cake; there are all kinds of instruments on shelves, with orange kente cloth for colour, mats are spread in a circle on the floor, and a box of cut-out letters awaits. Once the coats and boots are stowed away, the routine begins.
While the young students sit with calm anticipation in rows on small risers in one corner of the music lab, Bolduc tells them an animated story of taking his little yellow spectacles to the spectacle maker Monsieur Snifoti.
"No, they're blue, and they're huge!" interrupt the kids.
This is the intriguing introduction to today's special nursery rhyme, all about M. Snifoti and his long nose. However, the content of the story is not the main focus of the teaching; it is simply an amusing bridge to lead the students into a world of sound and rhythm, timbre and key.
Each week Bolduc teaches the students a brand new original nursery rhyme. He repeats it using a large laminated sheet marked with the words and small pictures that create visual associations with the sounds. This week's rhyme is a little different since it doesn't involve an animal character. That's why Bolduc is wearing the huge spectacles. Normally he uses a large soft hand puppet - a shark, a cat, a dragon, a sheep or a bumblebee, among others. Each nursery rhyme tells a story about the character within a simple four-line structure.
Bolduc and Lefebvre created these little songs specifically for use as baseline teaching tools for both language and musical activities. Each one involves repeating rhymes and frequent first-syllable alliteration and uses rich French-language vocabulary as well as two "pseudowords" - that is, invented words. One pseudoword is always the name of the character, Snifoti in this case; the other is always a verb, something the character does.
Teamwork
The children know what to expect. "Who are the stars of the day?" they ask. And two of them are selected, given cushions and some privileges. There's a small protest: "But Ben, he's always the star, he's done it three times!" Bolduc makes sure every child has a chance to be the star of the day on a rotating basis; the stars help lead the class in learning. The group soon settles. Bolduc beats out the rhythm of the nursery rhyme on a djembe drum: "Snifoti a le nez, plus long que ses pieds ..." Short short long, short short long, long long short short long.
There are two more lines, and the strong rhythm is played out with a catchy melody. It takes about 45 minutes to teach the nursery rhyme itself. While the students are engaged, I speak with their teacher, Anne-Marie Colas, OCT.
Bolduc is very impressed with the commitment of the teachers. The school is not far from the lab, but he points out that they've been showing up every week since January with a group of preschoolers. Just think of the snow suits and boots and mitts and hats and scarves. "We have a great collaboration with the school and its administration. This is true teamwork."
Today's class of four-year-olds is remarkably calm. No fidgeting, absolute concentration on the task at hand. I ask Colas if her group is unusual. She laughs. "No, it's because I'm strict with discipline, the iron fist in the velvet glove. And they adore coming to the lab."
Colas has been a member of the College since 2005. "But I've always been a teacher," she says. Originally from Haiti, she taught teenagers there and was a language teacher in adult education when she first came to Canada. She trained to teach little ones at the faculty of education here at the University of Ottawa.
Fun and games
At the lab, playful exploration is always front and centre. In addition to chanting specially created rhymes, the children play games - beating time on tambourines of different colours and shapes or identifying sounds and intervals on the xylophone or the giant keyboard.
During the final lab session for a Senior Kindergarten class taught by Danielle Morasse, OCT, Bolduc set out a pile of black-and-white block-like objects, which the children discovered were giant piano keys. They each picked one out and positioned it to help assemble a giant keyboard that they could then walk on, moving back and forth to make higher or lower pitches.
Such interactivity, kinaesthetic engagement and delight are common elements in Bolduc's music-based learning experiments. Morasse says there is always a lot of laughter when Bolduc interacts with her class. Fun is a major component. She adds that the experience with Bolduc's team has given her some new techniques and has confirmed her own thoughts regarding music and language learning.
"I have a fairly solid background, but it's good to take the time to reflect and to get an even better understanding of how literacy skills can be used in learning music and how musical skills can be used to develop phonological awareness.
"It's easier to turn it into a game when they're making musical sounds instead of the sounds associated with a letter of the alphabet, but it comes down to the same thing."
While Morasse recognizes changes in her own teaching, the effect on her pupils is even more striking. When they saw a woman from the lab in their school hallway, they spontaneously began to chant the rhymes and sing the songs she had taught them. At the end of the year, when Morasse asked each child to name a favourite classroom activity, one little boy answered without hesitation: "The activities with Jonathan at the university!" She recalls, "He was so happy when he went to the lab; he was simply beaming!"
He was so happy when he went to the lab; he was simply beaming!
At école Francojeunesse, there is a music teacher: Mme. Gabrielle teaches every class in the school of 500 students. This kind of specialty teaching is rare in smaller schools, but even the fortunate students of école Francojeunesse receive only one 40-minute lesson a week from Mme. Gabrielle. Bolduc points out that the National Association for Music Education in the US recommends 20 minutes a day of music instruction. For this to happen he believes that classroom teachers will need to use music more in their everyday teaching. But this is a challenge as Colas notes: "We have literacy, numeracy, science, art, all the things we have to cover in JK."
She herself took one of Bolduc's in-service music-training courses and found it invaluable. His approach has had a strong influence on her own teaching. It "takes away the fear we may have in teaching music because we learn how to have fun." As to the current project, she has noticed that even students who don't speak up much in the lab are learning. "They become more open to what music is. Their listening skills improve, they are pushed to notice words more. They say, 'That's not a real word, it's an invented word.' All the things they do with M. Jonathan."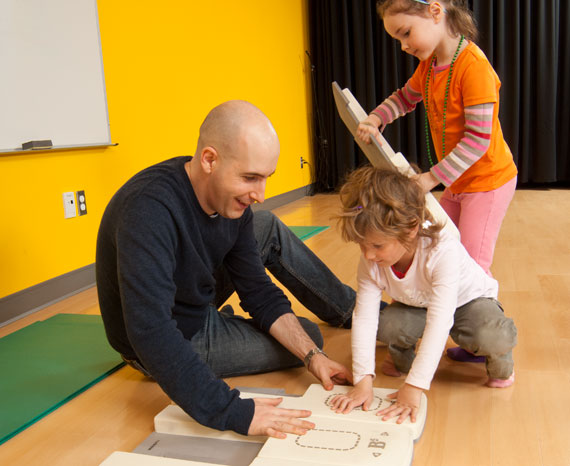 Jonathan Bolduc explores music with kindergarten students at his Mus-Alpha Lab as part of studies that investigate links between music and language learning.
Through the one-way glass into the lab we can see 15 totally engaged kindergarteners chanting the rhyme about M. Snifoti, moving their whole bodies, swaying in rhythm and keeping perfectly together as a chorus. They know it well now, and the musical activities can begin. Bolduc's approach is both specific and playful, making sure the children have fun while learning essential musical ideas.
The pepper and the tomato
For this activity, the students sit on the mats in a circle with M. Jonathan. Two in the centre beat time on little drums, while the others pass around a shaker in the shape of a tomato behind their backs. They all sing the rhyme, and when the music stops the person holding the tomato gives it a shake. The children are asked to identify who has the tomato. Then Bolduc adds another shaker with a different sound, this time in the shape of a pepper, passing it in the opposite direction.
This deceptively simple game has two pedagogical aims. Children are first asked to locate the sound in space and then to distinguish the timbre of the two different instruments. They are encourged to listen to the colour of the sound and to notice elements that are different in a specific sequence. Four-year-olds can distinguish between different aural qualities such as long/short, high/low and even sad/happy (the difference between major and minor keys).
"They are very good at it," Bolduc maintains. For example, in another of his nursery rhymes, Rabadon le Bourdon, the students became bumblebees sitting in the clouds. When Bolduc played the "happy music" the boys could leave their clouds and fly around the room. When he played the "sad music" it was the girls' turn. "At first, very few can distinguish the difference, but afterwards it's very effective. Often students can't do this in Grades 1, 2 or even 3, but here we have four-year-olds capable of such things."
Of groups and testing
Linking the results-based research with best classroom practices and current realities is of central concern to Bolduc and the schools with which he works.
The pattern of the research study is clearly established. Students belong to one of four participating groups at each grade level. Once a week for 10 weeks the rhyme of the day is taught to three of the groups in the same manner. Then Group 1 receives 30 minutes of musical training, Group 2 receives 30 minutes of language learning and Group 3 combines the two, with 15 minutes for music and 15 for language. The fourth group acts as a control; the rhyme of the day is played to the children in this group 30 times on CD during regular class time, but they don't interact with it at all.
Morasse's Senior Kindergarten class, for example, fell into the Group 3 category, receiving instruction in both music and language learning. Sometimes the researchers came to the classroom; other times the children went to Bolduc's lab at the university.
Bolduc and Lefebvre hypothesize that the most effective way to improve early reading and writing skills will be the combined teaching of music and language, but they won't be sure until the results come in. The students are tested before and after the program, first for musical understanding, using Gordon's Primary Measures of Music Audiation, and then for language using Montesinos-Gelet's Phonological Awareness Test.
Teachers know that phonological awareness in kindergarten is a strong predictor of later reading success. Bolduc and Lefebvre are passionately convinced that their approach to music and language instruction can improve the chance of this success for all students, not just those who are already gifted or highly stimulated at home.
It's easier to turn it into a game when they're making musical sounds instead of the sounds associated with a letter of the alphabet.
Expertise exchange
Bolduc is a trained musician and leads the musical activity groups in the lab each week. The other groups learn the nursery rhymes in their home classrooms. Pascal Lefebvre brings linguistic expertise to the design of the research study, but his teaching load did not allow him to deliver the language-activity program. Luckily, in January, Christel Pirkenne, a speech therapist on a short-term visit from Belgium, where she was involved in a similar study, joined the team. As well as her expertise in language, Pirkenne has a Master's degree in music, majoring in violin.
"I was a bit panicked," said Pirkenne, who arrived a week before the project began. "I was used to working in small groups of up to five." But, she says, in her first meeting with the students in a class taught by Danielle Morasse, OCT, she found Morasse to be a great support as she introduced students to the routines.
Lefebvre, Bolduc and their graduate student had done exceptional preparatory work in designing and creating the nursery rhymes, making it easier for Pirkenne to jump in. Lefebvre credits the input of 120 teachers who tested the rhymes in their classes. "We worked hard to get the rhymes perfect," says Lefebvre. "If we hadn't, the learning would not have gone so smoothly."
By last September the team had 20 nursery rhymes. They sent five to each teacher, without information about the premise of the project, asking the teachers to use one each week in their classroom for five weeks and to fill out an evaluation form for each rhyme. Teachers noted which were easy to teach, which were more difficult, which words were hard to pronounce, which were easy. Rhymes were then adapted according to the feedback. For example, in the Snifoti rhyme the invented word "tarlouche" was originally "tarloche." It was changed because the teachers reported that kids couldn't pronounce it the first way.
The net was spread very wide in this trial stage, including teachers from schools in diverse communities. Half were from Québec. As Lefebvre points out, "It's important that the nursery rhymes work as well for kids who use French mainly in school as for those who speak it all the time." The rhymes were sent to teachers working in very poor communities and more well-to-do neighbourhoods, in both rural and urban schools. All evaluation was incorporated into the final set of rhymes used in the research program.
Interestingly, some teachers were wary at first of the whole idea of invented words. They didn't know what to do with them until Bolduc and Lefebvre gave them ideas. But the students weren't bothered at all by the made-up words; in fact, they were amused by them. Lefebvre notes, "We found an interesting correlation. The more they enjoyed the words the more they used them. Pleasure is important in learning - everyone's pleasure. If we like it, we use it."
Beyond the lab
The involvement of teachers in evaluating the rhymes in their classrooms has suggested a way to spread this instructional approach beyond the laboratory. The collection of nursery rhymes will be gathered in a book to be published in 2012, which should be of interest to all teachers, says Lefebvre, though it is aimed at those teaching JK and SK.
"We don't want to add to teachers' workload," he insists. "The aim is to enrich what they are already doing every day in class."
He believes with Bolduc that teachers can stimulate musical and language skills in young students even without special skills in these fields. Teachers can work with the specially created nursery rhymes, or they can work with songs they already use in class.
"The guiding message of our research is that it's possible in the activities we do already to better prepare our children for formal reading and writing." Lefebvre recommends that teachers consider the possibilities of using everyday text to create opportunities for increasing phonological awareness.
"Whenever I do an activity with words using a story, a nursery rhyme, even a flyer that comes into the classroom, in each of those moments, yes, I can talk of meaning (what does the flyer say) but also the letters and sounds. Instead of thinking, 'Oh, I have to find a program to develop phonological awareness,' teachers can use everyday opportunities. Real activities make more sense to kids too."
Boys and girls - identifying when the music is "sad" or "happy" - jump up in turns to run round the circle.
Giving kids the key
Lefebvre is clear: "This is not decontextualized learning, 'Today we'll learn the letter L.' No, we recite a nursery rhyme with a lot of 'L's in it. It's the same teaching, but we can use an authentic opportunity, which is more amusing and pleasant."
Explicit teaching doesn't have to be flat and dull. It gives children a key, a specific way to think about what they are doing.
"The best thing" observes Pirkenne, "is when the student asks a question." She describes a moment when students were looking for words beginning with V. Like Victor (one of the student's names) and Mme. Valerie. "But, they're not completely the same," insisted little Victor. "Listen: Vi, Va, Vi, Va." Pirkenne wrote the words on the board and used the learning opportunity to show the difference in vowel sound. The boy had discovered a pattern for himself. "Before this he was so quiet, but now he is up on his knees all the time."
Through music, they can discover how to learn and play at the same time.
"I think that all teachers would like to be able to offer their students the most enriching experiences available," adds Morasse, "and this was a way of doing just that - with access to such expertise, these instruments and this wonderful lab.
"It's clear that this project targeted several aspects of the curriculum where we hoped to see some development," says Morrase. "And I'm convinced that it made a difference - especially as regards musicality and literacy."
Playing and learning at the same time
Back in the lab, Bolduc writes the Snifoti rhyme on the whiteboard and has the children clap the rhythm. He writes three lines (the fourth repeats the same musical phrase as the first) and labels them 1, 2, 3. One student notices. "But M. Jonathan, there are four lines in our rhyme!" A four-year-old is expanding the linguistic lesson to numbers.
The last word rests with Bolduc. "Music helps learning. It can allow us to open doors for children and impart a great many significant lessons. Through music, they can discover how to learn and play at the same time."
Inventing words and imagining intention
Even without special musical skills, teachers can get ideas and inspiration from the research study designed by Jonathan Bolduc and Pascal Lefebvre. They may, for example, substitute invented words in songs and rhymes they already use.
Here, in French, is one of the rhymes used in the study:
Snifoti a le nez
Plus long que ses pieds
Pendant qu'il mouche ses narines
Il tarlouche ses babines.
And here's a loose translation that attempts the feeling of the storyline - with a different rhythm but showing the substitution of an invented verb:
Snifoti has a nose
Longer than his feet and toes
Blows it on his finger tips
While he turbles with his lips.
Says speech therapist Christel Pirkenne: "Once the students have identified the invented word, which is always a verb, we ask them: 'What could we put in its place?'"
This is a challenge for four-year-olds and even five-year-olds.
"At first the children answer, 'Nothing. You said this word didn't exist.' But after a while they get the idea and begin to suggest all kinds of substitutions."
In this rhyme, for example, they might suggest the verbs 'smack,' 'kiss' or 'tickle.'
"Of course students can get carried away and change the whole line. They might say, 'Put on a dress' or some such. So you must stress - just one word in place of the invented one."
Sounds and Sense
Other research in the field
A positive link between music education and early learning and language development has been noted since the 1950s, but it is only in the past 12 years that cause and effect have been rigorously studied.