Reports on recent College activities and a selection of announcements, events and initiatives in the wider education community.
Art teacher helps students win $1.6 million
Triggering some $1.6 million in scholarships for his students is but one step for Matthew Varey, OCT, on his mission to turn Toronto into a global art capital. "We have enough talent to become the second most important visual art centre in the world, behind New York," says Varey, a painter and sculptor who teaches at the Etobicoke School of the Arts (ESA) in the Toronto DSB.
Drawing attention
To prove his point, Varey organized a Portfolio Day last year where his students showcased their work to visiting university representatives.
The show attracted 21 postsecondary institutions from North America and Paris and resulted in some three dozen scholarship offers. Three students won a school's maximum award, including one for $120,000 from the School of the Art Institute of Chicago.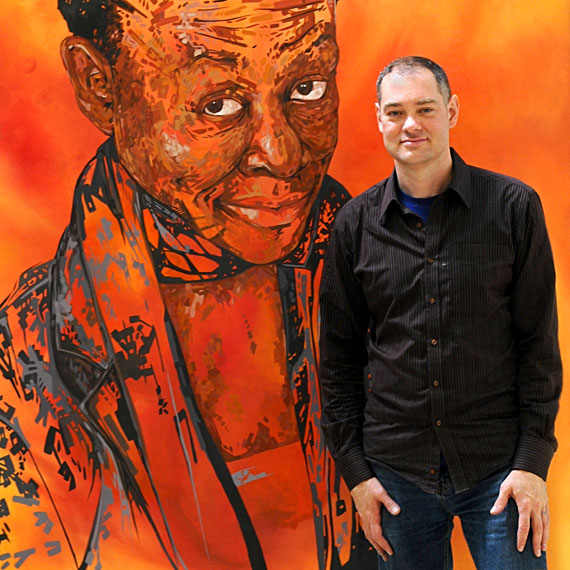 Art teacher Matthew Varey stands in front of an oil portrait by Simon Steer, one of this year's Etobicoke School of the Arts graduates.
One of the postsecondary school reps later told Varey, "All of the students I met were outstanding young artists, and I was impressed with how prepared they were to discuss their ideas, goals and accomplishments."
Inquiring art minds
The publicity generated by Varey's successful Portfolio Day has led to inquiries from art schools around the world. Varey expects even more postsecondary institutions to attend this year's event in November. "I'm not surprised by the positive reaction," he says. "Some kids are already producing gallery-ready art."
Meanwhile, Varey is working with other local schools - including postsecondary institutions - to transform art instruction in Ontario. He imagines an art program that begins in Grade 6 and continues through postsecondary studies. Such an approach, Varey says, could produce enough quality artists to attract even more international attention.
Five of Varey's former Grade 12s gather in front of a self-portrait by Jean-Luc Lindsay (far left).
"We could become a leader in arts education," he says. "That means more galleries, more curators and Toronto becoming a major art centre."
While Varey acknowledges that ESA students are talented, he says that their success results from an approach that involves "teaching art, not teaching school."
He adds that ESA creates a supportive environment that encourages students to take risks. "The new curriculum works well with what we are trying to do. All it takes is strong educators who are committed to producing artists rather than students."