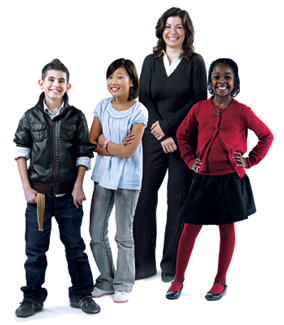 Have an impact on your profession
As the College Council election process gets under way, we need you to seriously consider being a candidate.
by Liz Papadopoulos, OCT
Just imagine: You are sitting as a member of a College investigation panel considering a complaint that a teacher has acted unprofessionally by allegedly not following an Individual Education Plan.
You use all your experience and knowledge as a professional to review the complaint and the evidence: your various roles as an educator, your years in the classroom, your commitment to students' well-being and learning. You use your critical judgment in the public interest to ensure that students are safe.
This is the kind of responsibility that a College Council member encounters.
As a Council member, you will serve on various committees. For example, on the Editorial Board of Professionally Speaking you would look for a balance of articles that will interest the College's diverse membership. On the Standards of Practice and Education Committee you would advise Council on the development, review and implementation of ethical and practice standards.
If you were to sit on the Registration Appeals Committee, you would meet with unsuccessful applicants and consider if they should be granted membership in the College.
Why would you be perfect for the job?
 I urge you to run or nominate a colleague.
Whether you are a Special Education teacher or a principal, work in a French- or English-language system, did your teacher education here in Ontario or in another country, you bring a unique perspective. The skills you bring to bear as an effective Ontario Certified Teacher are transferable to this role.
You need to communicate well and listen effectively, think critically and enjoy working as part of a team. If you have an opinion about education, you are suited to this function. If you have a social-justice mindset you would be good at this job.
More importantly, if you are interested in the care of students and want to make a contribution to the development of the teaching profession in the public interest, you belong here.
What's in it for you?
You get to protect students in this province. You have the opportunity to contribute to the teaching profession, help promote it and acquire unique skills that few roles in education offer. You gain a broad overview of the profession, and you have a say in dealing with matters that affect teaching in Ontario.
As a member of Council – we meet four times a year – you make broad-based policy decisions that impact what you do in the classroom and the students you are teaching.
I feel lucky to have been part of numerous initiatives. I was part of the Council that rolled out the professional designation for teachers – OCT for Ontario Certified Teacher. This will have a long-term positive impact on the whole profession as it helps to highlight the professionalization of teaching.
Other College initiatives include the New Teacher Induction Program (NTIP), the review of teachers' qualifications and professional advisories.
The NTIP has been a great boon for new members of our profession. The program – which provides support for newly certified teachers in permanent positions – reflects the College's advice to the Minister of Education. And through the College's review of teachers' qualifications, we have added relevant Additional Qualifications to meet the needs of Ontario classrooms in the 21st century.
Our recent Professional Advisory on the Use of Electronic Communication and Social Media was a huge success, and it's always a proud moment when you play a big part in an initiative that really resonates with teachers and the public.
I urge you to run or nominate a colleague and to vote in our upcoming elections. Your involvement and your vote ensure that your voice will be heard and respected.