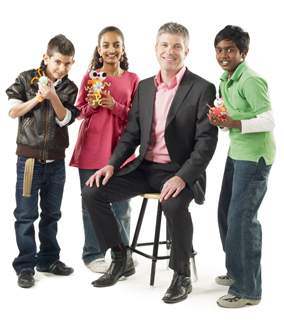 College operates at the intersection of professional and public interests
Easing students back into the routines of learning often begins with a review of what they know and may have forgotten. Helping members understand the College's role as regulator is similar.
by Michael Salvatori, OCT
Ah, the early days of September. A time for review. A chance to ease students back into routines. An opportunity to assess what they know and to connect with their lived experiences to prepare them for a new level of learning.
These early reminders become critical moments on which to build a program for student learning going forward.The College is in a similar situation. Reminding our members of what we do, why, and how it benefits Ontarians is an ongoing task.
I like to think that, as a regulator, we work at the corner of Public and Profession. It's a busy intersection, and we're mindful of the free flow of traffic and the smooth merging of ideas that often move in different directions. One stream drives to protect and serve the public interest in education. Another speeds toward growth and accountability as a profession. When they converge, everyone is served.
While we regulate the profession of teaching in the public interest, the College is not alone in its regulatory capacity among Ontario's professionals.
We are part of a healthy network of regulatory bodies that govern nurses, doctors, accountants and others in 40 professions across the province.
Like students, who at the beginning of the year hope the seating plan allows them to sit next to their friends, the College wants to collaborate much more closely with our common-interest friends this year.
For example, as part of the Ontario Regulators for Access Consortium, the College will continue to meet with representatives of more than 25 other regulators to enhance access to regulated professions for internationally educated professionals. This group has developed modules to enhance intercultural competency and sensitivity for regulators and continues to develop common strategies for the integration of internationally educated professionals in Ontario.
As part of the Ontario Profession Regulators' Policy Network, the College is engaged in a rich forum for regulators to share best practices in policy development and legislative amendments. The group has looked at issues of mutual interest, including labour mobility, accessibility, privacy and quality assurance.
Teachers are part of a privileged community of service professionals who have earned the public's trust to self-govern.
Through presentations to educators in Ontario and across the country on topics such as our social media advisory, I have the opportunity to forge new ties, cement existing connections and share information and best practices that further our service in the public interest.
Just before the start of the summer, I participated in a panel with three colleagues representing the legal and regulated health professions at the annual conference of the Association des juristes d'expression française. The panel focused on the provision of services in French to the public, members of a profession and potential applicants. The opportunity to share our diverse experiences and to learn from each other reinforces the common element in all of our work: inspiring public confidence.
Teachers are part of a privileged community of service professionals who have earned the public's trust to self-govern. In return, the public trusts that these professionals are highly qualified and committed to serving their constituents – whether students, patients or clients – with great care.
For our part, the public, teachers and education leaders can all feel pride in knowing that only highly educated, caring professionals have met Ontario's standards for certification and have been judged fit to teach Ontario's two million elementary and secondary school students.
Every now and then, though, it helps to have a reminder.