It's not getting any better for newcomers to teaching: First-year teacher unemployment rose sharply once again in 2012. More Ontario graduates than in past years left the province in search of teaching jobs. And Ontario's independent schools increased their role as initial employers of new teachers.
The latest Transition to Teaching survey of Ontario's teacher education graduates found that first-year unemployment grew from just seven per cent in 2008 to 37 per cent in 2012. Another one in three of last year's new teachers found some work in the profession, but they report that they were underemployed during the 2011–12 school year, mainly limited to daily supply teaching lists.
Many of us cannot afford to pay rent and carve out a living supply teaching, so we have to find alternative ways to bring in revenue. We end up taking daycare, retail and other customer service jobs to supplement an income.
Primary-junior 2011 graduate, early childhood specialization, Toronto
One in eight of these new teachers resided outside Ontario in spring 2012 when they responded to the College's annual survey. Those who moved to another province or country were much more successful in finding teaching jobs than those who remained in Ontario. More of them found teaching jobs, were fully employed and achieved regular teaching contracts.
One in 10 employed graduates teaches in an independent school. And they, too, had much more success in landing regular teaching jobs than those teaching in Ontario publicly funded schools.
More than one in four new Ontario teachers now find their first teaching jobs at independent schools or outside Ontario.
And almost half of those who succeed in landing a regular teaching position find it outside Ontario's publicly funded school system.
I preferred to teach in Ontario, but the grim outlook in the job market prompted me to look for overseas employment… It was a good way to secure a full-time position for myself, as well as for my husband, who is also a teacher.
2011 graduate,
teaching in China
Both elementary and secondary qualified teachers face high levels of unemployment and underemployment. Regardless of their qualifications, very few get regular teaching contracts in their first year after graduating. Primary-junior qualified teachers face the most challenging job market with fully half of them not able to find even daily supply teaching work in the first year.
With increasing rates of teacher unemployment and underemployment, more and more graduates turned to non-teaching occupations in recent years. Almost one in three first-year teachers and two in three of the unemployed among them now say they work outside the teaching profession.
The 2012 surveys of teachers in the early years of their careers reveals that the queues for teaching jobs got even longer in the past year. Seven in 10 first-year teachers now say they were unemployed or underemployed in the 2011–12 school year. More than half of third-year teachers say they are still not finding as much work as a teacher as they want. And even for those five years into their career, one in three say they are not yet fully employed.
French-language teachers continue to fare better than English-language teachers, although fully half of them now report they are unemployed or underemployed in the first year following graduation. And the job outcomes for new-Canadian teachers deteriorated further in 2012 with four in five of them reporting they can find no teaching work at all, not even daily supply.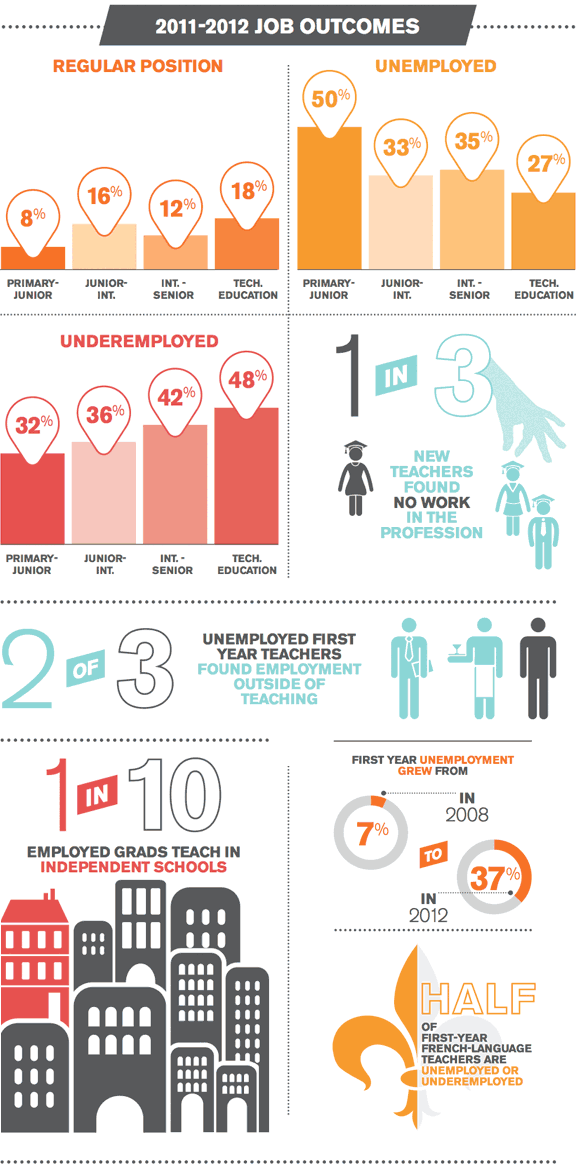 About our Survey
The Transition to Teaching survey of new teachers in the 2011–12 school year examines the job-entry success and professional experience of teacher education graduates of 2002 through 2011 and new-to-Ontario teachers educated elsewhere and certified in 2010 and 2011. Web-based surveys were used with large samples from each of these groups of new teachers.
Responses were received from 4,717 teachers. Response rates varied from 20 to 34 per cent of the samples, with an average 28 per cent return overall. Accuracy rates for the surveys range from 2.6 to 5 per cent, 19 times out of 20.
The Transition to Teaching survey is made possible by a grant from the Ontario Ministry of Education. This report does not necessarily reflect the policies, views and requirements of the Ministry.
The full report of this year's survey is available on the College website, oct.ca.