Bullying is one of the most researched and discussed social issues of our time. The following four books are among many resources on bullying prevention and public education.
---
Bullying Awareness
By Vanessa Hamilton, OCT, and Jeff Reati, OCT
Bullying Awareness is an e-book written by two Ontario teachers who, through their teaching and community involvement, saw the need for a resource that was comprehensive, unique and linked specifically to Ontario curriculum. This easy-to-use teacher guide is full of information about bullying, its major forms, signs and symptoms, intervention and prevention strategies. In addition to well-researched information on bullying and bullying prevention initiatives, it covers a range of implementation ideas that are directly connected to curriculum, across all content areas and divisions. The 25 pages of activities include information sheets, lesson plans and strategies for classroom and community projects, and target all age levels. The book concludes with an extensive list of references. If Ontario teachers could choose only one resource to support anti-bullying initiatives in their schools and communities, Bullying Awareness should be the one.
Bullying Awareness: Reclaiming Our Schools, e-book, 67 pages, free, e-book available at bit.ly/16AoeCP
---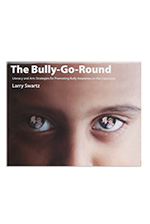 The Bully-Go-Round
By Larry Swartz
Anyone who knows Larry Swartz's practical resources for teachers will recognize the user-friendliness of The Bully-Go-Round flipbook format. Social media has had a huge impact on the bully, the bullied and the bystanders, and The Bully-Go-Round takes it all on in stride. Chapters in this handy book address understanding bullying, bullying in the digital world, bullying words, responding in writing, responding in role and anti-bullying in action. It also includes a section on supporting student awareness, professional reading and an index. Finally, it suggests more than 35 activities with creative and cathartic ways of responding to the bullies in our midst. This slim volume is ultra-accessible and packed with great ideas to stimulate discussion on bullying prevention.
The Bully-Go-Round: Literacy and Arts Strategies for Promoting Bully Awareness in the Classroom, Pembroke Publishers, Markham, 2013, softcover, ISBN 978-1-55138-285-2,
30-page flipbook, $12.95, pembrokepublishers.com
---
No Place for Bullying
By James Dillon
This book looks at the paradigm shifts that must occur for school-wide bullying programs to be effectively implemented by school administrators. Scores of issues are addressed like the blind spot in bullying prevention, programs and practices, ethical ramifications and solutions. In addition to an appendix of bullying prevention resources, No Place for Bullying also includes an extensive list of references and a well-organized index.
The author of No Place for Bullying is an educator with 35 years of experience — 10 of them in the role of school administrator. While the book contains useful information for school administrators, No Place for Bullying has a decidedly American slant. Information is presented with an eye to legal and political ramifications. Despite those limitations, school administrators and those searching for extensive research on bullying prevention may find this book highly informative.
No Place for Bullying: Leadership for Schools that Care for Every Student, Corwin, an imprint of Sage Publications, Thousand Oaks, CA, 2012, softcover, ISBN 978-1-4522-1669-0, 288 pages, US$39.95, corwin.com
---
Bullying is Not a Game
By Laurie Flasko and Julie Christiansen
Unlike the three resources already reviewed, Bullying is Not a Game is directed at parents. Laurie Flasko is an Ontario parent whose daughter was bullied. She is a sought-after keynote speaker on bullying and what parents can do to stop it. Far from being a sad story of one bullied victim, the book focuses instead on ways parents, coaches, community leaders and teachers can prevent bullying from occurring. Co-author Julie Christensen, a professor of psychology at George Brown College, speaks at conferences across Canada about anger and stress.
Bullying is Not a Game is a valuable resource for parents and community leaders. It discusses such topics as bullying basics, working with schools to develop a game plan and bullying red flags. A helpful resource section covers planning tools, an annotated list of resources and a brief summary of therapeutic models. Parents, coaches, community leaders and school administrators will find not only an affecting story of one victim but a wide range of practical ways to curb bullying.
Bullying is Not a Game: A Parents' Survival Guide, Laurie Flasko & Associates and Leverage U Press, 2012, ISBN 978-0-9878846-0-2, 208 pages, $24.95, email lflasko@laurieflasko.com, bullyingisnotagame.com
---
Gail Lennon wrote all the reviews on the bullying resources. She is a writer and reviewer with more than 35 years of Ontario teaching experience at all levels.
---
Everything a New Elementary Teacher REALLY Needs to Know
By Otis Kriegel
New teachers will appreciate the humour and fun in this book, which is jam-packed with advice and solutions for every situation you might encounter in your first years of teaching. Written with utility in mind, the book is divided into four sections: what to do before the school year begins, what to do during the school year, relating to your students' families and how to manage your own life as a teacher. Kriegel's personal stories offer some levity and much insight into the rocky road of becoming a teacher. The wonderful illustrations woven into each chapter enhance and demonstrate key points such as the daily schedule or how to organize school supplies.
Despite having been a teacher for almost 20 years, I found this book an absolute pleasure to read. Some sections had me laughing out loud. Others had me wishing I had read this book during my first couple of years on the job! I would definitely seek out an opportunity to attend one of Kriegel's workshops on how to survive the first years of teaching upon which this book is based. A definite must read for teachers!
Maria Giuseppina Zappone, OCT, teaches Grade 3 at St. Veronica Catholic ES in the York Catholic DSB.
Everything a New Elementary School Teacher REALLY Needs to Know (But Didn't Learn in College), Free Spirit Publishing, Minneapolis, MN, 2013, softcover, ISBN 978-1-57542-428-6,
248 pages, US$15.99, freespirit.com
---
Classroom Management
By Brian Harris
One size definitely does not fit all when it comes to effectively managing a classroom. As a matter of fact, each class, with its particular group of students and its particular social dynamic, must be managed individually. Negative behaviour that can so quickly derail classroom instruction must be nipped in the bud with consistent management strategies.
The author makes it clear that consistency matters from the get-go and suggests a number of beginning-of-the-year activities to establish how you want your classroom to function. He delves into both positive and negative consequences of behaviour so that students fully understand what will happen when they follow expectations and what happens when they choose not to. Suggestions to help your students become more organized and ready for learning are sprinkled throughout. A slew of fun and engaging activities are recommended, showing teachers how to encourage positive social skills and how to build self-confidence. The last section of the book focuses on anger management and stress reduction with recommendations for relaxation techniques, stress-busting tips and appropriate ways to express anger.
Without reinventing the wheel, this book provides a treasury of strategies and activities that are straightforward and easy to implement in your classroom. With the academic and social challenges that students face on a daily basis, they do not need a chaotic classroom or any more stressors than they already have. Whether you are a seasoned or a newly qualified teacher, this book is a valuable addition to your classroom library.
Cheryl Woolnough, OCT, is a Special Education teacher with the Peel DSB.
Classroom Management: Proven strategies, tips, and techniques for teachers in grades 5–9, CGS Communications Inc., Burlington, 2012, softcover, ISBN 978-1467961219, 342 pages, $44.95, cgscommunications.com
---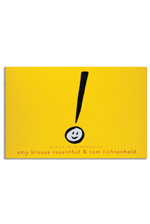 Exclamation Mark!
by Amy Krouse Rosenthal, illustrated by Tom Lichtenheld
This book is a funny and poignant drama about punctuation. Its main character, Exclamation Mark, feels out of place in a world filled with periods. He feels different, confused, unwanted and sad. But then, Exclamation Mark meets Question Mark and slowly, he comes to understand his special role in life. It is to express himself, often, loudly, with vigour and passion and zeal! And it is then that his zest for life erupts into a torrent of exclamation marks!!!!! The use of simple phrases and black-and-white line art on the kind of lined composition paper familiar to all early primary students is highly effective. Told and illustrated with exquisite simplicity and humour, Rosenthal and Lichtenheld are masters at taking a serious topic and making it accessible to young readers. The book embraces two serious topics — punctuation, which we need to express ourselves in written form and self-acceptance and confidence, which we strive toward to express ourselves in all forms. The book is a grand celebration of what makes each of us unique.
Exclamation Mark invites children to explore their feelings in a safe context. Early in the story, when Exclamation Mark is overrun with despondency and despair at never feeling like he fits in, the black line art depicting him is diminutive and meagre. As his feelings of self-worth soar, the pages are infused with brilliant colour and the font size grows.
This book is a wonderful read-aloud story and could provide a kick-off for lessons about anti-bullying, differences and similarities, playground and classroom expectations, as well as the role of punctuation in writing. It could also benefit students in junior and senior elementary classrooms as a model for picture book writing and illustration. I highly recommend this book. It will bring a smile to your day.
Cindy Matthews, OCT, is a retired AQ instructor and vice-principal with the Waterloo Region DSB.
Exclamation Mark! Scholastic Press, Markham, 2013, hardcover, ISBN 978-0-545-43679-3,
56 pages, $19.99, scholastic.ca
---
The Stamp Collector
by Jennifer Lanthier, illustrated by François Thisdale
Based on true events in China, Lanthier weaves a complicated tale about two boys living in China; one, a poor country boy who loves words and stories, the other a city boy who is inspired to start a collection when he finds a stamp from somewhere far away. Years later, their lives intertwine. The city boy becomes a prison guard and the country boy, a prisoner because of his political writings. Though not permitted to talk, the two men develop a friendship based on mutual respect. Written in prose poetry and illustrated with exquisite watercolours, the language and pictures blend the dark and the light, juxtaposing feelings of despair with hope. This is a truly inspirational book that demonstrates the power of the written word. The Stamp Collector would be an excellent introduction to the ideas of social justice and freedom of speech for junior and intermediate readers.
Laura Barron, OCT, is a teacher-librarian at Fernforest PS in Brampton.
The Stamp Collector, Fitzhenry & Whiteside, Markham, 2012, hardcover,
ISBN 978-1-55455-218-4, 32 pages, $18.95, fitzhenry.ca
---
The Secret of the Village Fool
by Rebecca Upjohn, illustrated by Renné Benoit
The Secret of the Village Fool explores how people come to see a village fool as a village hero. It is the true story of two Jewish brothers who live with their family in a village in Nazi-occupied Poland. They are kept safe during World War II by the fool/hero who hides them in his cellar. The book includes an afterword about these real-life people who survived the war. The stellar illustrations in muted greys and browns capture the sense of dread and hopelessness that pervades the town. The story has obvious tie-ins to history, world religion and culture and is remembered and honoured at the Yad Vashem Holocaust memorial and museum in Jerusalem. This poignant story of terror and loss is ultimately a moving story of heroism and hope.
Mary Shaughnessy, OCT, is an adjunct instructor at Queen's University in Kingston
The Secret of the Village Fool, Second Story Press, Toronto, 2012, hardcover,
ISBN 978-1-926920-75-7, 32 pages, $18.95, distributed in Canada by UTP, secondstorypress.ca