It's a month before summer break for Harriet Simand's Grade 6 class at The Bishop Strachan School (BSS) in Toronto and her math lesson is creating a buzz. Clinging to rulers and reciting formulas, 12-year-old girls chatter in pairs as they figure out the mass, volume and area of geometric-shaped cardboard boxes they've crafted for an assignment called Ship the Chip, a lesson Simand modified from the Web. The girls had to make the smallest and lightest vessel possible to secure a single Pringles chip for mailing — no "fragile" stickers allowed — to their junior-school principal,Patti MacDonald, OCT. On today's agenda: open the loot and inspect the cargo.
"The judge has arrived!" says Simand, OCT, and she might as well have introduced Justin Bieber. Some hold their breath as MacDonald gamely digs in. One team nested their chip in cotton balls, another MacGyvered their cardboard into a trapezoidal prism, while a third lined a rectangular prism with a sponge they had carved to cradle the chip's curves. One by one, the chips are extracted. Most are pristine, some arrive in two or three pieces, and the one that arrived coated in soy nut butter wins bonus points for creativity — even though it's reduced to crumbs. As applause and smiles brighten the classroom, it becomes apparent that an intact chip was hardly the point. "This just seemed like a fun way to teach measurement," says Simand. "I mean, how can you be intimidated by having to mail a potato chip?"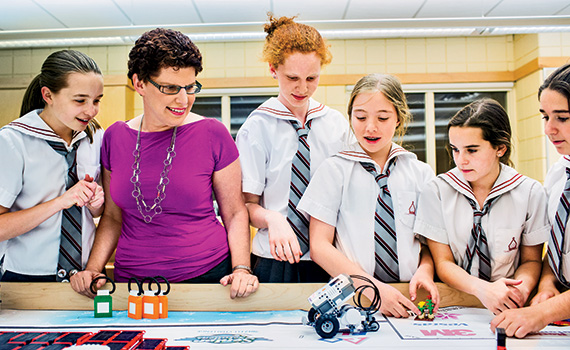 Harriet Simand, OCT, and her Grade 6s test drive their student-designed tribot program in the BSS Design and Tech Lab.
With offbeat lessons that connect school to the real world, Harriet Simand has a gift for showing her students the joy of learning. She's staged relaxation tests to ease math anxiety, escorted students to city hall to plead for a ban on plastic bags, introduced them to inner-city schools to understand diversity and plugged them in to science at a robotics competition. It's a winning formula: the former litigator-turned-educator earned a Prime Minister's Award for Teaching Excellence in 2012 — parents and former students flooded the PM's office with letters of support. "If every teacher were like Ms. Simand," a former student wrote, "I would never want to leave school."
Simand knows many math-phobic adults so she's determined to cultivate a love for the subject in her students. "I tell them math is not genetic. If you're not understanding, it's not a problem with you — it's because I haven't explained it properly." She even invites students to bring their stuffed animals and bathrobes to the first math relaxation test, where she throws in an impossible question and awards points for trying to formulate an answer and remaining calm. Within a few months, there's no lingering sign of fuzzy slippers during tests. "I know they don't need all of those things, but I want them to see that for themselves."
Pretty soon students are too busy having a blast to notice that they're actually doing algebra. Simand had them strap on aprons and measure cookie ingredients for a lesson in fractions. After ordering flour from the kitchen for the entire grade and putting the girls into eight groups, she told them they only needed to make one-eighth of the recipe. Since one careless calculation can ruin their batch of treats — they actually bake the results and eat them — they've learned the value of checking arithmetic.
Another time, she had students choose furniture for a dream bedroom — then announced that they'd done all their shopping on credit. They had to research interest rates, calculate how much they'd owe per month and how long they'd be paying off decorating debts.
Great innovations
Simand's passion for mathematics sparked BSS to revamp their teaching practices after she co-led extensive research into math resources. Teachers now pull from multiple (mostly free) programs instead of a single one — this includes JUMP Math Smart board lessons (bit.ly/1bJ6t8c), the University of Waterloo's Problem of the Week (bit.ly/et9O9I), Illuminations from the National Council of Teachers of Mathematics (bit.ly/1boT7zu), and the book From Patterns to Algebra. Surveys completed by students at the start and end of the year show the impact. "We've seen improvements in math scores and math attitudes across the board," says MacDonald.
Simand opened her students' eyes to science when she entered them in the FIRST Lego League Robotics Championships in 2010 — a new initiative at the elementary level for BSS. When they learned (through their own research) that dogs can alert epileptics to an impending seizure, the girls invented and programmed a robot called iSnoopy, a mechanical "nose" to help with these predictions. Amid boy-heavy competition, the class took home an innovation award at the provincial finals. Simand doesn't care about the girls beating the boys so much as the girls joining them. "It's a big issue," she says. "Women have made gains, but we're still underrepresented in math and engineering. There's no reason women can't get high-tech jobs. They can be just as creative at problem solving."
Another of Simand's trademarks is encouraging students to stretch outside their comfort zones. One student was a fabulous writer, but every story looked identical. "I said, 'Look, you know you're a Level 4 but I'm only going to give you a 4 if you challenge yourself and try something new." Another student from The York School, where Simand previously taught, flooded the classroom during a science experiment — and ended up with the highest mark. "This kid was revising his thinking, he showed me he was willing to take a risk — working like a real scientist. I try to create a safe atmosphere where everyone knows that I'm looking for thought and creativity. And, if it's a complete disaster, it doesn't matter."
Cultivating community
Taking risks works well for Simand because she allows for student input on what they'll study. "I have a list of skills I must cover but how we do it depends on where their interests lie — it's different from year to year." At The York School, another Toronto independent, her Grade 5 class was shocked to learn about the nasty impact of discarded plastic bags on ocean life and landfills. What began as a classroom curiosity ballooned into a campaign to reduce use, which they worked on the following year.
At city hall, they presented depositions before 150-plus industry leaders, lobbyists, researchers and stakeholders, scoring praise and national media coverage. "Class 6S [Simand's students], by far, made the best presentation," said councillor Glenn De Baeremaeker. "They were well spoken, knowledgeable and very passionate." They created the website banthebagbrigade.wikispaces.com and then asked if they could make a documentary. Though Simand didn't know a thing about making movies, she marched them off to watch films and meet a director, and their film was eventually screened at the Sprockets Toronto International Film Festival for Children. If that weren't enough to bolster a student's confidence, Ban the Bag Brigade was a finalist in 2009 for a Livegreen Toronto Award. "Harriet taught these children, at the ages of 11 and 12, the skills they require to become agents of social change," says parent Karen Fancy.
Simand inserts a healthy dose of reality into her approach to teaching so her students can learn valuable lessons first-hand. Instead of reading up on immigrant populations, her students mentor Grade 2s in an inner-city neighbourhood bustling with families who are new to the country. "You can't value multiculturalism and diversity if you don't meet people from different communities and see how valuable they are," says Simand, a former human rights lawyer. "Now, when the girls hear stereotypes, they can challenge them and say, 'Hey, that's a great neighbourhood — I know people there.'"
Once the girls bond with the younger students they have to look up apartments and visit the local supermarket to determine how they could survive on actual Toronto social assistance rates. "I know they'll find it impossible," says Simand, "but it will mean more to them because they've met children who are just as smart and funny and creative but who nevertheless have to use food banks. They have a strong sense of what is and isn't fair. I think you can cultivate that sense of social justice at a young age — that idea that 'I can make a difference and I have a responsibility to.' I just let them experience it and come to their own conclusions. It's so much fun to come to work when this is what we're doing."
Natural connection
Of course, none of this would be possible if Simand didn't have a close connection to her students. "She really listens to them," observes MacDonald. "She treats them as capable individuals, and she laughs with them." She's a bit like Ms. Frizzle, the shamelessly enthusiastic children's book character who steers her class through wondrous field trips aboard the Magic School Bus. "Her ability to inspire, motivate and teach is apparent every time you speak with her," says parent Carolyn Ussher. "This is not just her job, it's who she is."
MacDonald believes Simand's gift goes beyond creative lessons with real-world applications. "Her greatest impact is that she helps to illuminate the girls' strengths. She takes a problem-based approach and helps them take risks. We've seen the girls leave Grade 6 as confident leaders who believe in themselves and want to share their ideas because they have been so respected throughout their time with Ms. Simand."
5 Steps to no-stress tests
Harriet Simand's simple formula for writing math tests:
Read through every question before answering a single one.
(Simand reads the whole test out loud.)
Highlight key info.
Make a tick mark beside questions that you instantly know how to do.
Mark the ones you're not sure about with an X.
Do the tick marks first. "Once your brain has processed the easy ones,
go to the difficult ones. That way, you don't get frustrated and blocked."
Create the perfect plan
"How can I get them to love coming to school?" That is what Harriet Simand asks herself when she's dreaming up a lesson plan. Here's what works for her:
Borrow inspiration
Simand came across a television show on anorexia, which she turned into a lesson on ratios and body image. First, students made two outlines: one of Barbie and one of Simand or another teacher. Then, they had to scale up the doll drawing to life size, so they could compare Barbie's figure to a real woman's.
Tap an interest
She might launch a space unit by asking her students what they want to know about the universe, or screening space videos to see what gets everyone talking. "If you find something they're passionate about, they'll pay attention."
Think like a student
Instead of ducking subjects she knows nothing about (like filmmaking), Simand immerses herself in them. She Googles, reads and skims ideas from a variety of online lessons. "Why should we be afraid — we're there to learn too."
Mash it up!
It's not an accident that projects like the Ban the Bag Brigade weave multiple strands of the curriculum together. "If you choose to do everything separately, you'll need 800 days to get through everything."
PHOTOS: ANYA CHIBIS