Marci Ien is trained to report the facts as a co-host on Canada AM, and when it comes to discussing her education — and the woman who helped determine the course of her career — she quickly gets candid.
Ien was born in 1969 to Trinidadian parents who moved the family from North York to Scarborough the summer leading up to Grade 2. Like many, Ien faced the challenge of starting over at a new school, Silver Springs PS. "I was scared to death and didn't know anybody," recalls Ien. "I was beginning a new life in a new city and was shy, and out of my element."
Her saving grace? Kathy Cuffe [née Kerr], OCT, a teacher who was not only new to the school but to the profession. Cuffe remembers this time well but doesn't feel that she handled it differently than any other teacher would have. "We just do it naturally — when a new student comes in, you make sure they're comfortable in their surroundings and their environment because it certainly can be difficult."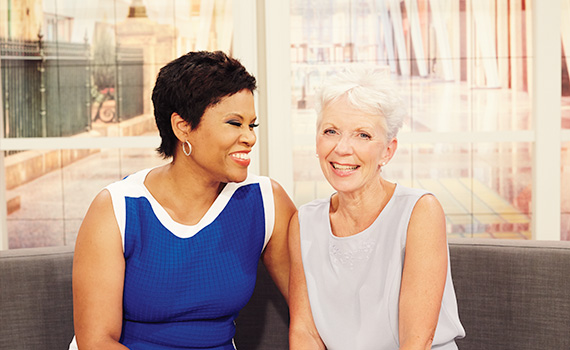 Kathy Cuffe, OCT, visits Marci Ien at the Canada AM studio. They reminisce over a Grade 2 class photo and recall fond memories of their time at Silver Springs.
"When I think of Mrs. Cuffe," says Ien, "I remember the feeling of being welcomed. That's the kind of teacher she was. I felt at home and that was so important for a seven-year-old who was moving into a new neighbourhood — not knowing anybody, trying to make friends, trying to find my own identity. She was fantastic."
I couldn't do my job without the confidence gained and the lessons that I learned in school.
These fond memories are definitely mutual. "Marci always came to class happy," recalls Cuffe. "She had this great big grin on her face and her hair was always done in these cute little pigtails. She was such a sponge, one of those kids who kept you on your toes, what we'd call Level 4 now — that was Marci. It was great because as a teacher you had to be prepared for that."
Ien happily confesses that she was a huge fan of school, and as it turned out, this was rather ideal considering her father worked in education. Joel Ien, OCT, wore several hats throughout his career: he was a French teacher, a principal and a superintendent with the former North York Board of Education; and if that wasn't impressive enough, he later became a professor at OISE/UT.
"My dad made everything into a fun learning experience. At a restaurant, he would make us order things in French — he knew how to keep things interesting. Education is important to my family, it was always front and centre."
Listening to classroom read-alouds, especially Clifford the Big Red Dog, is a vivid Grade 2 memory that Ien holds onto. She attributes her love of reading to Cuffe, who personally supplied many of the books at Silver Springs PS — the school was new and short on resources.
Leadership and a passion for language were also apparent in Ien at that time. "When I read to the kids in the rocking chair," recalls Cuffe, "Marci would be the first one on the carpet to sit, and she'd be absolutely engrossed. In fact, she used to read to some of the other students too, in a little nook behind the piano."
Ien firmly believes that our early years at school inform the decisions we make later in life. She credits Cuffe and her other elementary teachers for sending her down the particular path she chose. "My job requires skills in reading and investigative journalism, so that I can address anybody, at any time — this includes asking newsmakers questions, sometimes rather uncomfortable ones," explains Ien. "I'm responsible for bringing our country stories that need to be told. It's serious business and I couldn't do it without the confidence that I gained back in school and the lessons that I learned at that time. Curiosity was never stifled in the classroom. These are things that as parents we should instill in our kids, but in my experience, great teachers tend to instinctively cover them, and that makes a huge difference."
Cuffe isn't surprised at where Ien's career has taken her. "Marci was articulate, her diction was clear and she was intent on making her point known by all. It makes me chuckle now, when I watch her on TV. She's an incredible interviewer because she knows exactly what she wants from her subjects, and goes in and gets it. She did that as a child too. She was always asking questions, wanting information."
By the time Cuffe retired in 2010, she had worked her way up to a principal's position, eventually ending her career as co-ordinator of student services in the York Region DSB. She continued to work in this position post-retirement until she finally said goodbye in November 2012.
The close-knit staff at Silver Springs PS played a huge role in Cuffe's professional formation. "There were only about 10 of us teaching together but it was a wonderful experience. We were mentoring long before the Ministry came up with such programs, and the two women who mentored me are still close friends of mine — we get together often."
At one of these gatherings, several years ago, Ien had the opportunity to reunite with Cuffe. "Mrs. Parkin [another teacher at the school] got in touch with me and said, 'We're having a get-together, you have to come and surprise them!'... so I did," recalls the former student.
When told how much she had influenced Ien, Cuffe was equal parts touched and amazed. "We really don't know the impact we have on our students," she says. "Here it is, 35 years later, and Marci still remembers these things."
"Good teachers don't realize how good they are," Ien says, "because they all just think they're doing their job. They don't realize they're going over and above. But I'm so happy that Mrs. Cuffe will know this now, because she was great. It's important for me to tell this story."
PHOTOS: JAIME HOGGE