PS News presents reports on recent College activities and a selection of announcements, events and initiatives in the wider education community that may be of interest to our members.
Family Literacy
TCDSB reading program could go province-wide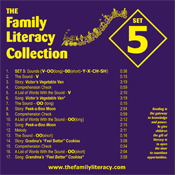 A successful Toronto Catholic DSB early literacy kit aimed primarily at immigrant families could soon be helping students throughout the province. The TCDSB hopes enough boards will show interest in the initiative to make production costs affordable for everyone.
The Family Literacy Collection consists of six CDs with illustrated stories and songs, each focusing on different sounds, accompanied by activity sheets. A one-time $300,000 Ministry of Education grant allowed the TCDSB to produce the program and distribute 5,000 kits to first graders from immigrant families in poorer parts of the city.
"We wanted something that would appeal to parents so they would spend time learning with their kids," says Enir Bassani, a TCDSB community relations officer who conceived the project.
"The parent engagement is a real plus. Many of these parents hold two jobs, speak little or no English and can't afford to send their kids to daycare where they could pick up the language. When the kids get to school, they are about 1,000 hours behind their classmates in terms of English-language exposure."
Bassani says he can tell that the program is working because 99 per cent of the CDs are returned with the books read and activity sheets filled out. And the teachers are reporting improved reading skills in the classroom.
"The children are enthusiastic," says Maggie Uncao, OCT, a Grade 1 teacher at St. Cecilia Catholic School. "The kids can hardly wait to get their binders with a new story and CD."
Uncao, who is responsible for many English as a Second Language students, adds: "The reading kits are really motivating the children to sound out words on their own. It's a great resource."
For more information contact Enir Bassani at enir.bassani@tcdsb.org or 416-393-5590.