Governing Ourselves informs members of legal and regulatory matters affecting the profession. This section provides updates on licensing and qualification requirements, notification of Council resolutions and reports from various Council committees, including reports on accreditation and discipline matters.
Teachers' Qualifications Regulation
No more 194 days!
Streamlining certification, removing barriers, updating AQs through the new Teachers' Qualifications Regulation
The teachers clapped, cried and gave the thumbs-up sign. The standing ovation continued for more than a minute.
At an information session for newly licensed, internationally educated teachers in Brampton last December, Ontario College of Teachers staff encountered a first. The audience interrupted the presentation with thunderous applause when they saw the slide that said teachers educated outside Ontario will no longer need 194 days of Ontario teaching experience before they can be certified. Faces beamed ear-to-ear smiles, while some teachers had tears in their eyes.
"They were just overwhelmed," says College Registrar Michael Salvatori, OCT. "The 194-day barrier – gone. They read ahead and saw it and just burst into applause, because the tough employment situation meant they were going to have trouble meeting the requirement."
Steve Gobin, OCT, who supply teaches at a secondary school, rose to his feet and clapped with the rest of the audience. "That's a welcome situation," he says. "That's a major concern, and I would be very glad if that could be removed." Gobin adds that internationally educated teachers are experienced and accustomed to the classroom.
Ammara Tahir, OCT, of Mississauga says the change is "huge." The mother of two children under two years old has been feeling the pressure. Her worry that she would not be able to meet the 194-day requirement will disappear now. "Getting a job as a teacher is quite challenging," she says. "God will bless you for doing this."
Removing the 194-day requirement is only one of the many groundbreaking changes in the new Teachers' Qualifications Regulation (TQR). The regulation has undergone a massive revision, its first major update in more than three decades.
"It's a nice accumulation of years and years of work across the profession," says Council Chair Liz Papadopoulos, OCT. "The changes impact all our members and lay a solid foundation of ongoing learning."
As part of this milestone revision, the College has streamlined certificates and changed the number of certificates from six to two. Consolidating the certificates simplifies the certification process and minimizes barriers, particularly for applicants from outside Ontario. The changes facilitate labour mobility across Canada and minimize barriers for internationally educated teachers.
We've also updated teacher education to reflect curriculum in classes and the qualifications teachers need to be equipped for the classroom. This includes the introduction of a new group of 64 courses in technological education and a new three-part Kindergarten course.
Teacher qualifications in the 21st century

On March 26 the College Council passed the new TQR and consequential amendments to the Accreditation Regulation. Later that day the amendments were sent to the Minister of Education for filing.
The changes, which benefit all members, are the culmination of four years of work. It began with the College going out into the field with dozens of wide-ranging, open-ended questions for members, such as: What do you think is important for certification in the 21st century? What courses do teachers need with the advances in technology and with multiculturalism and changes in the demographics in the student population?
Thousands of College members across Ontario were involved with Council members and staff in revising qualifications programs. Teacher affiliates provided helpful input at all stages of the review. The review resulted in 66 recommendations about teacher education programs, based on the consultations.
"When stakeholders, teachers' federations and members proposed new AQ courses, we responded," says Papadopoulos. "We are still continuing to add courses. The College responding to its membership shows it has the teaching profession's interests in mind, and that in turn serves the public interest as well."
"We're an exemplary model for the country in how far we've gone to remove barriers and facilitate labour mobility," says Salvatori, noting that the College is fully compliant with the interprovincial labour mobility agreement and recommendations made by the Ontario Fairness Commissioner.
From six certificates to two

The complicated system of six certificates is gone. There are now two: a Certificate of Qualification and Registration and a Transitional Certificate of Qualification and Registration. The Interim Certificate of Qualification and Registration will no longer be issued.
The transitional certificate is for teachers enrolled in a multi-session program. When they complete their requirements, they will receive a Certificate of Qualification and Registration.
Both certificates will list qualifications and any terms, conditions and limitations.
"We are going to give internationally educated teachers a certificate that has the same name as the others, which honours their many years of teaching experience in their own country and validates that they're already teachers," Salvatori says. "What we're doing is trying to help them teach in Ontario. They're not starting over."
The new system is simpler and more transparent for everyone.
Revamped AQs

Teachers love to learn. The College awarded 38,818 Additional Qualifications in 2009 alone.
Ontario teachers' commitment to ongoing learning is reflected in the number and breadth of updated programs and courses in the new regulation. A significant direction in the new regulation involves technological education, as our Canadian economy needs more people in skilled trades. Technological teachers will now be able to choose from 64 new AQ courses that make up an entirely new Schedule F.
This new group of courses provides technological education teachers with the opportunity to gain a greater depth of knowledge in an area of expertise, such as communications technology or construction technology.
"We've opened the doors to allow them to get specific knowledge in their field," says Papadopoulos. "The list of technological courses is enormous. That's not just for our members. Students will benefit as well."
The courses are designed for technological education teachers to further their studies in specific areas within a broad-based technological area. Each course corresponds to an area of emphasis within one of the broad-based areas in the technological education curriculum.
A new three-course specialist Kindergarten program will start in 2011, and there will be a new full-year program for teachers of the Deaf and hard of hearing.
"It's very timely because teachers want to be part of the early learning initiative," says Papadopoulos. "This will be a benefit to members of the profession who want to specialize. You do need a specific skill set."
The Principal's Qualification Program guidelines were completely revised, and the Supervisory Officer's Qualification Program (SOQP) soon will be.
The College has developed or revised 123 courses on a wide range of subjects over the last two years. Teachers can now take AQs like mentoring, American Sign Language, outdoor experiential education and teaching, learning through e-learning, and inclusive education. We wanted to have courses that are pertinent and reflect what the teaching profession needs in the 21st century.
"The content of the regulation and the courses that have been developed were not taken out of thin air," says Papadopoulos. "They're the result of a lot of consultation, the result of members giving feedback to the College. The changes that have been made are changes that our membership wanted – our teachers, our principals and vice-principals, and our supervisory officers. These are all changes they have asked for."
More to come

The changes are not yet finished. Work is proceeding on revising the SOQP and on other English and French AQ course guidelines.
As well, the College is continuing with its plan to finish Phase 5 of the Teachers' Qualifications Review, which focuses on initial teacher education.
"The new regulation is a significant milestone for the College," says Margaret Aubé, OCT, who led the Teachers' Qualifications Regulation project until her retirement this past January. "It was developed in consultation with the teaching profession and our education partners, and the sweeping changes reflect the evolution of the education environment and the professional learning needs of our members."
Sustained applause and tears are not a response the College expected to get. The fact that it happened indicates just how significant the new regulation is.
"In one initiative," Papadopoulos says, "we have created changes that are far reaching and permeate many different aspects of the profession. All our members will benefit from this regulation."
For more information about the certificates and the new regulation, visit www.oct.ca.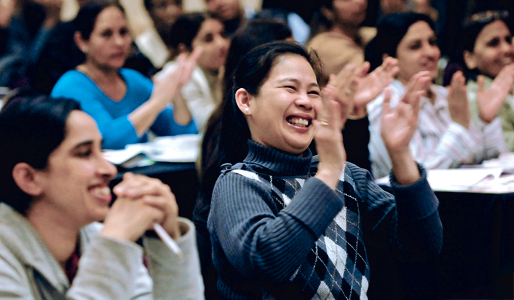 Participants at an information session for newly licensed, internationally educated teachers in Brampton were relieved and happy to learn that the 194-day barrier would be lifted.